Freightliners reorganized
23rd July 1971
Page 16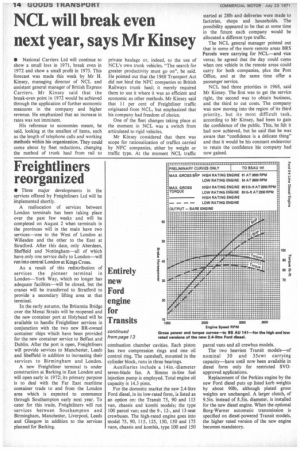 Page 16, 23rd July 1971 —
Freightliners reorganized
Close
• Three major developments in the services offered by Freightliners Ltd will be implemented shortly.
A reallocation of services between London terminals has been taking place over the past few weeks and will be completed on August 2 when terminals in the provinces will in the main have two services—one to the West of London at Willesden and the other to the East at Stratford. After this date, only Aberdeen, Sheffield and Nottingham—all of which have only one service daily to London—will run into central London at Kings Cross.
As a result of this redistribution of services the pioneer terminal in London—York Way, which no longer has adequate facilities—will be closed, but the cranes will be transferred to Stratford to provide a secondary lifting area at that terminal.
In the early autumn, the Britannia Bridge over the Menai Straits will be reopened and the new container port at Holyhead will be available to handle Freightliner services in conjunction with the two new BR-owned container ships which have been provided for the new container service to Belfast and Dublin. After the port is open, Freightliners will provide services to Manchester, Leeds and Sheffield in addition to increasing their services to Birmingham and London.
A new Freightliner terminal is under construction at Barking in East London and will open early in 1972; its primary purpose is to deal with the Far East maritime container trade to and from the London area which is expected to commence through Southampton early next year. To cater for this trade, Freightliners will run services between Southampton and Birmingham, Manchester, Liverpool, Leeds and Glasgow in addition to the services planned for Barking.
Tags
Locations
:
Manchester
,
Birmingham
,
Liverpool
,
Aberdeen
,
Sheffield
,
Glasgow
,
Dublin
,
Southampton
,
Nottingham
,
Belfast
,
Leeds
,
London