Jobless training GTAs qualify for Carr's cash
23rd July 1971
Page 15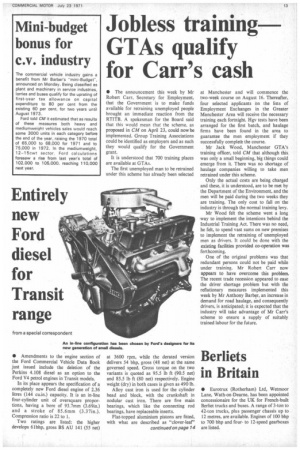 Page 15, 23rd July 1971 —
Jobless training GTAs qualify for Carr's cash
Close
• The announcement this week by Mr Robert Carr, Secretary for Employment, that the Government is to make funds available for retraining unemployed people brought an immediate reaction from the RTITB. A spokesman for the Board said that this would mean that the scheme, as proposed in CM on April 23, could now be implemented. Group Training Associations could be identified as employers and as such they would qualify for the Government grant.
It is understood that 700 training places are available at GTAs.
The first unemployed man to be retrained under this scheme has already been selected
at Manchester and will commence the two-week course on August 16. Thereafter, four selected applicants bn the lists of Employment Exchanges in the Greater Manchester Area will receive the necessary training each fortnight. Hgv tests have been arranged for the first batch, and haulage firms have been found in the area to guarantee the men employment if they successfully complete the course.
Mr Jack Wood, Manchester GTA's training officer, told CM that although this was only a small beginning, big things could emerge from it. There was no shortage of haulage companies willing to take men retrained under this scheme.
Only the actual costs are being charged and these, it is understood, are to be met by the Department of the Environment, and the men will be paid during the two weeks they are training. The only cost to fall on the industry is through the normal training levy.
Mr Wood felt the scheme went a long way to implement the intentions behind the Industrial Training Act. There was no need, he felt, to spend vast sums on new premises to implement the retraining of unemployed men as drivers. It could be done with the existing facilities provided co-operation was forthcoming.
One of the original problems was that redundant persons could not be paid while under training. Mr Robert Carr now appears to have overcome this problem. The recent trade recession appeared to ease the driver shortage problem but with the reflationary measures implemented this week by Mr Anthony Barber, an increase in demand for road haulage, and consequently drivers, is anticipated; it is expected that the industry will take advantage of Mr Carr's scheme to ensure a supply of suitably trained labour for the future.