Entirely new Ford diesel for Transit range
23rd July 1971
Page 15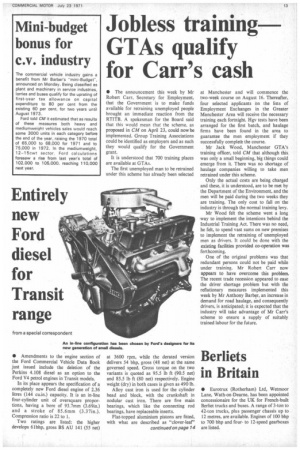 Page 16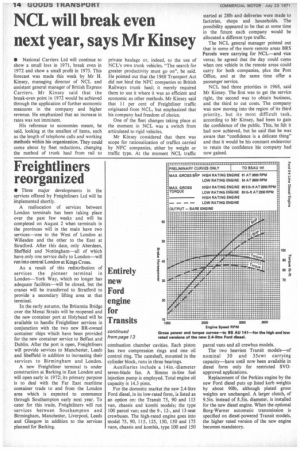 Page 15, 23rd July 1971 —
Entirely new Ford diesel for Transit range
Close
from a special correspondent
• Amendments to the engine section of the Ford Commercial Vehicle Data Book just issued include the deletion of the Perkins 4.108 diesel as an option to the Ford V4 petrol engines in Transit models.
In its place appears the specification of a completely new Ford diesel engine of 2.36 litres (144 cu.in.) capacity. It is an in-line four-cylinder unit of oversquare proportions, having a bore of 93.7mm (3.69in.) and a stroke of 85.6mm (3.37in.). Compression ratio is 22 to 1.
Two ratings are listed: the higher develops 6 lbhp, gross BS AU 141 (55 net)
at 3600 rpm, while the derated version delivers 54 bhp, gross (48 net) at the same governed speed. Gross torque on the two variants is quoted as 95.5 lb ft (90.5 net) and 85.5 lb ft (80 net) respectively. Engine weight (dry) in both cases is given as 490 lb.
Alloy cast iron is used for the cylinder head and block, with the crankshaft in nodular cast iron. There are five main bearings, which like the connecting rod bearings, have replaceable inserts.
Flat-topped aluminium pistons are fitted, with what are described as "clover-leaf' continued on page 14 combustion chamber cavities. Each piston has two compression rings and one oil control ring. The camshaft, mounted in the cylinder block, runs in three bearings.
Auxiliaries include a I4in.-diameter seven-blade fan. A Simms in-line fuel injection pump is employed. Total engine oil capacity is 14.3 pints.
For the domestic market the new 2.4-litre Ford diesel, in its low-rated form, is listed as an option on: the Transit 75, 90 and 115 van, chassis and kombi models; the type 100 parcel van; and the 9-, 12-, and 13-seat crewbuses. The high-rated engine goes into model 75, 90, 115, 125, 130, 150 and 175 vans, chassis and kombis, type 100 and 150 parcel vans and all crewbus models.
The two heaviest Transit models—of nominal 30 and 35cwt carrying capacity—have until now been available in diesel form only for restricted SVOapproved applications.
Replacement of the Perkins engine by the new Ford diesel puts up listed kerb weights by about 901b, although plated gross• weights are unchanged. A larger clutch, of 9.5in. instead of 8.5in. diameter, is installed for the new diesel engine. When the optional Borg-Warner automatic transmission is specified on diesel-powered Transit models, the higher rated version of the new engine becomes mandatory.