Britain agrees to 8-hour day and tachographs
23rd July 1971
Page 14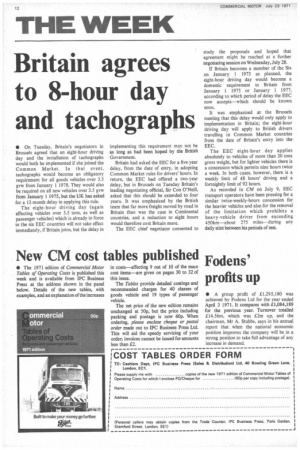 Page 14, 23rd July 1971 —
Britain agrees to 8-hour day and tachographs
Close
• On Tuesday, Britain's negotiators in Brussels agreed that an eight-hour driving day and the installation of tachographs would both be implemented if she joined the Common Market In that event, tachographs would become an obligatory requirement for all goods vehicles over 3.5 gvw from January 1 1978. They would also be required on all new vehicles over 3.5 gvw from January 11975, but the UK has asked for a 12-month delay in applying this rule.
The eight-hour driving day (again affecting vehicles over 3.5 tons, as well as passenger vehicles) which is already in force in the six EEC countries will not take effect immediately, if Britain joins, but the delay in
implementing this requirement may not be as long as had been hoped by the British Government.
Britain had asked the EEC for a five-year delay, from the date of entry, in adopting Common Market rules for drivers' hours. In return, the EEC had offered a two-year delay, but in Brussels on Tuesday Britain's leading negotiating official, Sir Con O'Neill, asked that this should be extended to four years. It was emphasized by the British team that far more freight moved by road in Britain than was the case in Continental countries, and a reduction to eight hours would therefore cost Britain more.
The EEC chief negotiator consented to study the proposals and hoped that agreement might be reached at a further negotiating session on Wednesday, July 28.
If Britain becomes a member of the Six on January 1 1973 as planned, the eight-hour driving day would become a domestic requirement in Britain from January 1 1975 or January 1 1977, according to which period of delay the EEC now accepts—which should be known soon.
It was emphasized at the Brussels meeting that this delay would only apply to implementation in Britain; the eight-hour driving day will apply to British drivers travelling in Common Market countries from the date of Britain's entry into theEEC.
The EEC eight-hour day applies absolutely to vehicles of more than 20 tons gross weight, but for lighter vehicles there is a concession which permits nine hours twice a week. In both cases, however, there is a weekly limit of 48 hours' driving and a fortnightly limit of 92 hours.
As recorded in CM on July 9, EEC transport operators have been pressing for a similar twice-weekly-hours concession for the heavier vehicles and also for the removal of the limitation which prohibits a heavy-vehicle driver from exceeding 450km—about 275 miles—during any daily stint between his periods of rest.