Assessing the Market
23rd July 1971
Page 13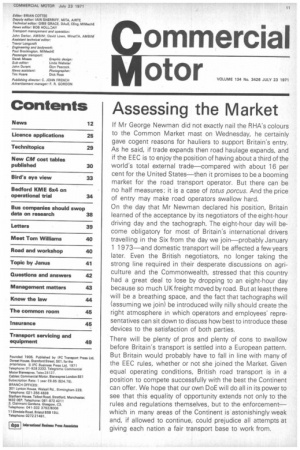 Page 13, 23rd July 1971 —
Assessing the Market
Close
If Mr George Newman did not exactly nail the IR HA's colours to the Common Market mast on Wednesday, he certainly gave cogent reasons for hauliers to support Britain's entry. As he said, if trade expands then road haulage expands, and if the EEC is to enjoy the position of having about a third of the world's total external trade—compared with about 16 per cent for the United States then it promises to be a booming market for the road transport operator. But there can be no half measures: it is a case of tows porous. And the price of entry may make road operators swallow hard.
On the day that Mr Newman declared his position, Britain learned of the acceptance by its negotiators of the eight-hour driving day and the tachograph. The eight-hour day will become obligatory for most of Britain's international drivers travelling in the Six from the day we join—probably January 1 1973—and domestic transport will be affected a few years later. Even the British negotiators, no longer taking the strong line required in their desperate discussions on agriculture and the Commonwealth, stressed that this country had a great deal to lose by dropping to an eight-hour day because so much UK freight moved by road. But at least there will be a breathing space, and the fact that tachographs will (assuming we join) be introduced willy nilly should create the right atmosphere in which operators and employees' representatives can sit down to discuss how best to introduce these devices to the satisfaction of both parties.
There will be plenty of pros and plenty of cons to swallow before Britain's transport is settled into a European pattern. But Britain would probably have to fall in line with many of the EEC rules, whether or not she joined the Market. Given equal operating conditions, British road transport is in a position to compete successfully with the best the Continent can offer. We hope that our own DoE will do all in its power to see that this equality of opportunity extends not only to the rules and regulations themselves, but to the enforcement which in many areas of the Continent is astonishingly weak and, if allowed to continue, could prejudice all attempts at giving each nation a fair transport base to work from.