Multiple Accident Claims Settled
23rd July 1954
Page 53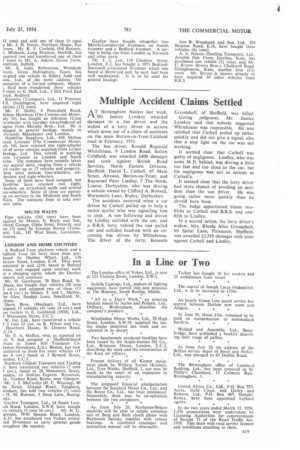 Page 53, 23rd July 1954 —
Multiple Accident Claims Settled
Close
AT Birmingham Assizes last week, Mr. Justice Lynskey awarded damages to a bus driver and the widow of a lorry driver in actions which arose out of a chain of accidents on the main Burton-on-Trent-Lichfield road in February, 1951.
The bus driver, Ronald Reginald Whitehouse, 9 Lyndon Road, Sutton Coldfield, was awarded £400 damages and costs against British Road Services, North Eastern Division, Sheffield; David L. Cuthell, 47 Main Street, Alrewas, Burton-on-Trent; and Raymond Peter Lindley, 7 The Nook, Loscoe, Derbyshire, who was driving a vehicle owned by Clifford A. ROnsall, Warmwells Lane, Ripley, Derbyshire.
The accidents occurred when a car driven by Cuthell pulled up to help a motor cyclist who was signalling him to stop. . A van following and driven by Lindley collided with the car, and a B.R.S. lorry behind the van pulled out and collided head-on with an oncoming bus driven by Whitehouse. The drivet of the lorry, Kenneth
Groundsell, of Sheffield, was killed Giving judgment, Mr. Justice Lynskey said that nobody suggested Whitehouse was responsible. He was satisfied that Cuthell pulled up rather quickly and did not give a signal, also that a stop light on the car was not working.
It seemed clear that Cuthell was guilty of negligence. Lindley, who was some 36 ft. behind, was driving a little too fast and too close to the car, but his negligence was not so serious as Cut hell's.
It seemed clear that the lorry driver had more chance of avoiding an accident than the 'van driver. He was going rather more quickly than he should have been. .
The Judge apportioned blame twofifths lo Cuthell and B.R.S. and onefifth to Lindley..
In a second action, the lorry driver's widow, Mrs. Rhoda Alice Grouncisell, 60 Spital Lane, PittsmoOr, Sheffield, was awarded 12,359 dimages with Cogs against Cuthell and Lindley.