U.A.S. Seek to Costs: Wilts and
23rd July 1954
Page 39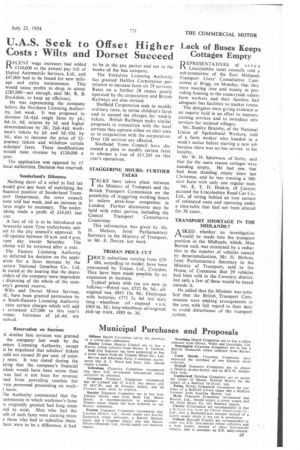 Page 39, 23rd July 1954 —
U.A.S. Seek to Costs: Wilts and
Close
D ECENT wage increases had added
£120,000 to the annual pay bill of United Automobile Services, Ltd., and £47,000 had to be found for new mileage and extra maintenance. This would cause profits to drop to about £287,000—not enough, said Mr. R. B. Stockdale, to keep up efficiency.
He was representing the company before the Northern Licensing Authority, last week. It was proposed to increase 3d.-41d. single fares by id.; 6d.-1s. 6d. returns by Id. and higher denominations by 2d.; 2d.-4d. workmen's tickets by id. and 5d.-10d. by Id.; also to increase the price of 12journey tickets and withdraw certain_ scholars' fares. These modifications would raise revenue by £120,000 a year.
The application was opposed by 17 local authorities, Decision was reserved.
Sunderland's Dilemma
Nothing short of a relief in fuel tax would give any hope of stabilizing the financial position of Sunderland Trartsport Department, the town council were told last week, and an increase in ares might be necessary. The underaking made a profit of £16,051 last rear.
A fare of Id. is to be introduced on slewcastle upon Tyne trolleybuses, subect to the city council's approval. It nil operate between 10 a.m. and 4 p.m. very day except Saturday. The cheme will be reviewed after a year. The Eastern Licensing Authority as deferred his decision on the appliation for a fares increase by the astern National Omnibus Co., Ltd. le stated at the hearing that the shareolders of the company were imprudent I disposing of the whole of the comany's general reserve.
Wilts and Dorset Motor Services, td., have been granted permission by he South-Eastern Licensing Authority raise certain charges which will add I estimated £27,000 to this year's venue. Increases of id.-4d. are volved.
Reservation on Increase A similar fare revision was granted the company last week by the estern Licensing Authority, except it he stipulated that scholars' tickets 3uld not exceed 20 per cent, of exist; rates. It was stated during the aring that the company's financial sitiort would have been worse than was had it not been for revenue .ned from providing coaches for Nice personnel proceeding on weekI leave.
Ehe Authority commented that the :.umstances in which workmen's fares .e originally granted had long since sed to exist. Men who had the efit of such fares were earning more a those who had to subsidize them. here were to be a difference, it had
Offset Higher Dorset Succeed
to be in the pay packet and not in he books of the bus company.
The Yorkshire Licensing Authority has granted Halifax Corporation permission to increase fares on 29 services. Rates on a further 28 routes jointly operated by the corporation and British Railways are also revised.
Sheffield Corporation seek to modify ordinary rates, to revise children's fares and to amend the charges for weekly tickets. British Railways make similar proposals in connection with the local services they operate either on their own or in conjunction with the corporation. Over 120 services are affected.
Southend Town Council have discussed a plan to modify certain fares to obviate a loss of £11,245 on this year's operations.
STAGGERING HOURS: FURTHER
TALKS have taken place between 1 the Ministry of Transport and the British Transport Commission on the possibility of staggering working hours to relieve peak-hour congestion in London. Further discussions may be held with other parties, including the
Central Transport Consultative Committee.
This information was given by Mr. H. Matson, Joint Parliamentary Secretary to the Ministry of Transport, to Mr. E. Davies, last week.
TROJAN PRICE CUT
PRICE reductions varying from £29£84, according to model, have been announced by Trojan, Ltd., Croydon, They have been made possible by an expansion in business.
Typical prices with tax are now as follows:—Petrol van, £532 Os. 5d.; oilengined van, £845 13s. 9d.; Electrojan with batteries, £773 2s. 6d. (no tax); long wheelbase oil engined v a n, £969 6s. 3d.; long-wheelbase oil-engined pick-up truck, £889 6s. 3d.
Lack of Buses Keeps Cottages Empty
D EPRESENTATIVES of seven IA Lincolnshire rural councils told a sub-committee of the East Midlands Transport Users' Consultative Committee at Brigg, on Monday, that they were wasting time and money in providing housing in the countryside unless farm workers and their families had adequate bus facilities to market towns.
The delegates were giving evidence at an inquiry held in an effort to improve existing services and to introduce new services for isolated villages.
Mr. Stanley Brumby, of the National Union of Agricultural Workers, told of a farm worker who handed in a week's notice before starting a new job because there was no bus service in his locality.
Mr. W. H. Sprawson, of Sotby, said that for the same reason cottages were standing empty. He had one that had been standing empty since last Christmas, and he was running a 300acre farm with only one regular man.
Mr. E. T. D. Drakes, of Caistor, accused the Lincolnshire Road Car Co., Ltd., of sitting behind an iron curtain of estimated costs and operating under a time-table that had not been altered for 30 years.
TRANSPORT SHORTAGE IN THE MIDLANDS?
A SKED whether an investigation
could be made into the transport position in the Midlands, which, Miss Burton said, was straitened by a reduction in the number of vehicles caused by denationalization, Mr. H. Molson, Joint Parliamentary Secretary to the Ministry of Transport, said in the House of Commons that 29 vehicles had been sold in the Coventry district, but only a few of these would be based outside it.
He added that the Minister was satisfied that the British, Transport Commission were miaking arrangements in the area with full regard to their duty to avoid disturbance of the transport system.
Tags
Organisations
:
Southend Town Council
,
Central Transport Consultative Committee
,
National Union
,
Licensing Authority
,
Northern Licensing Authority
,
Sunderland Trartsport Department
,
British Transport Commission
,
Yorkshire Licensing Authority
,
House of Commons
,
Ehe Authority
,
Eastern Licensing Authority
,
Ministry of Transport
,
East Midlands Transport Users' Consultative Committee