Proof that Power Trucks Pay Qood Dividends T HE direct saving
23rd July 1948
Page 53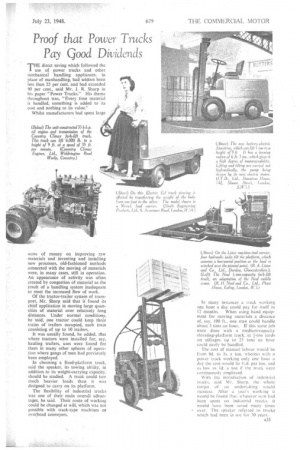 Page 53, 23rd July 1948 —
Proof that Power Trucks Pay Qood Dividends T HE direct saving
Close
which followed the use of power trucks and other mechanical handling appliances, in place of manhandling, had seldom been less than 25 per cent, and had exceeded 90 per cent., said Mr. J. R. Sharp in his paper "Power Trucks." His theme throughout was, "Every time material is handled, something is added to its cost and nothing to its value."
Whilst manufacturers had spent large
sums of money on improving raw materials and inventing and insIrdling new processes, old-fashioned methods connected with the moving of materials were, in many cases, still in operation. An appearance of activity was often created by congestion of material as the result of a handling system inadequate to meet the increased flow of work.
Of the tractor-trailer system of transport, Mr. Sharp said that it found its chief application in moving large quantities of material over relatively long distances. Under normal conditions, he said; one tractor could keep three trains of trailers occupied, each train consisting of up to 10 trailers.
It was usually found, he added, that where tractors were installed for, say, hauling trailers, uses were found for them in many other spheres of operation where gangs, of men had previously been employed,
It, choosing a fixed-platform truck, said the speaker, its towing ability, in addition to its weight-carrying capacity, should be studied. A truck could tow much heavier loads than it was designed to carry on its platform.
The flexibility of industrial trucks was one of their main overall advantages, he said, Their route of working could be changed at will, which was not possible with track-type machines or overhead conveyers.
In many instances a truck working one hour a day could pay for itself in
12 months. When using hand equipment for moving materials a distance of, say, 100 IL, one man could handle about 3 tons an hour._ If this same job were done with a medium-capacity elevating-platform truck. in -.;-ton loads on stillages. up to 25 tons an hour could easily be handled.
The cost of manual labour would be from &I. to .1s. a ton, whereas with a power truck working only one hour a day the cost would be 4d. per ton, and as low as Id. a ton if the truck were continuously employed.
With the introduction of industrial trucks, said Mr. Sharp, the whole tempi) of an undertaking would increase. After a year's working it would he found that, whatever sum had been spent on industrial trucks, it would have been saved many times over. The speaker referred to trucks which had been in use for 30 years.