• Great Scope for the
23rd July 1948
Page 51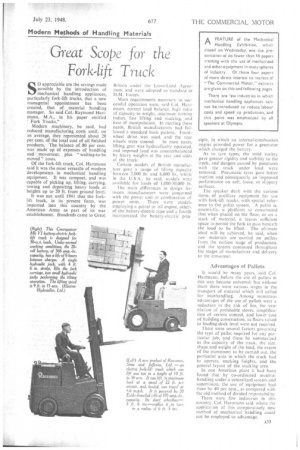 Page 51, 23rd July 1948 —
• Great Scope for the
Close
Fork-lift Truck S0 appreciable are the savings made possible by the introduction of mechanical handling appliances, particularly fork-lift trucks, that a new managerial appointment has been created, that of Material handling manager. So said Col. Raymond Hartmann, M.A.' in his paper entitled ' Fork Trucks," Modern machinery, he said, had reduced manufacturing costs until, on an average, they represented about 20 per cent, of the total cost of all finished products. The balance of 80 per cent. was made up of expenses of handling and movement, plus "waiting-to-be moved" costs.
Of the fork-lift truck, Col. Hartmann said it was the most versatile of modern developments in mechanical handling equipment. It was compact, and was capable of picking up, lifting, carrying, towing and depositing heavy loads at heights up to 20 ft. from ground level.
It was not until 1941 that the forklift truck, in its present form, was imported into this country by the American Army as part of its war establishment. Hundreds came to Great Britain under the Lease-Lend Agreement and were adopted as standard in M Forces.
Main requirements necessary to successful operation were, said Col, Hartmann, correct load balance. high ratio of capacity to weight, minimum turning radius, fast lifting and stacking, and ease of manipulation. In meeting these needs, British manufacturers had followed a standard basic pattern. Frontwheel drive was used, and the rear wheels were steered. In most cases, lifting gear was hydraulically operated, and imposed load was counterbalanced by heavy weights at the rear and sides of the truck.
Certain models of British manufacture gave a ranee ol lifting capacity between 2,000 lb. and 6,000 lb., whilst in the U.S A., he said, models were available for loads of 1.000-30,000 !b.
"I-he main differences in design between manufacturers were concerned with the power unit or combination of power units. There were models employing a petrol or oil engine, others of the battery-electric type and a fourth incorporated the battery-electric prin ciple, in which an internal-combustion engine provided power for a generator which charged the battery.
As to tyre types, the solid variety gave greater rigidity and stability to the truck. and dangers caused by punctures with the truck under load were removed. Pneumatic tyres gave better traction and consequently an improved per-rot-1TM= On soft, loose, or slippery surfaces.
The speaker dealt with the various items of ancillary equipment for the with fork-lift trucks, with special reference to the pallet system. A pallet is. essentially, a platform so constructed that when placed on the floor, or on a stack of material, it leaves sufficient space to permit the fork to pass beneath the load to be lifted. The ultimate ideal will: he achieved, he said, when raw materials are carried on pallets from the earliest stage of production, and the system continued throughout the stages of manufacture and delivery to the consumer.
Advantages of Pallets It would be many years, said Col, 'Hartmann. before the use of pallets in this way became universal, but without them there were various stages in the transport of material which still called for manhandling. Among numerous advantages of the use of pallets were a reduction in the risk of fire, the ventilation of perishable stores, simplification of vermin control, and lower cost of building construction., as floors raised to loading-dock level were not required.
There were several factors governing the type of pallet required for any particular job, and these he summarized at the capacity of the truck, the size, shape and weight of the load, the extent of the movement to be carried out, the particular area in which the truck had to operate, stacking heights, and the general layout of the stacking area.
In one American plant it had been found that by co-ordinated material handling under a centralized system and supervision, the use of equipment had risen by 40 per cent., as compared with the old method of divided responsibility.
There were few industries in this country. Col. Hartmann said. where the application of this comparatively new method of mechanical handling could not be employed to advantage.