A Lightweight Insulant
23rd July 1948
Page 44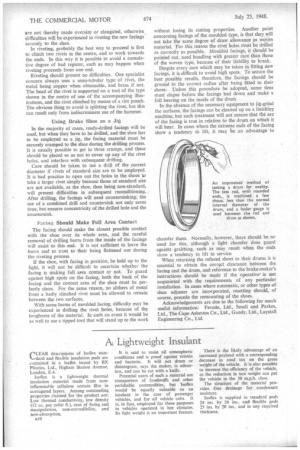 Page 44, 23rd July 1948 —
A Lightweight Insulant
Close
CLEAR descriptions of Isollex standard and flexible insulation pads are contained in a leaflet issued by BX Plastics, Ltd., 1-lig,ham Station Avenue, London, E.4.
Isoflex is a lightweight thermal insulation material made from noninflammable cellulose acetate film in corrugated layers. Among outstanding properties claimed for 'the product are: Low thermal conductivity, low density (12 oz. per cubic ft.), ease of fixing and manipulation, non-corrodibility, and non-absorption. It is said to resist all atmospheric conditions and is proof against vermin and bacteria. It will not drum or disintegrate, says the maker, is odourless, and can be cut with a knife.
Potential users of such a material are transporters of foodstuffs and other perishable commodities, but isoflex would be equally valuable as an insulant in the case of passenger vehicles, and for all vehicle cabs. It is, in fact, employed for these purposes in vehicles operated in hot climates. Its light weight is an important feature. There is the likely advantage of an increased payload with a corresponding decrease in road tax on the gross weight of the vehicle. It is also possible to increase the; efficiency of the vehicle, as the reduction in tare weight can put the vehicle in the 30 m.p.h. class.
The structure of the material provides free drainage for condensate moisture. • ' Isoflex is supplied in standard pads 24 ins. by 24 ins., and flexible pads 23 ins. by 20 ins., and in any required thickness.