:onscientious
23rd July 1948
Page 41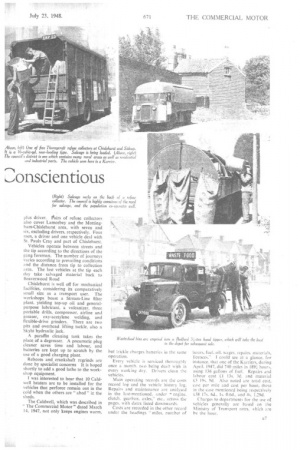 Page 41, 23rd July 1948 —
:onscientious
Close
(Right). Salvage sacks on the back of a refuse collector. The council is highly conscious of the need for salvage, and the population co-operates well.
plus driver. pairs of refuse collectors also cover Lamorbey and the Mattingham-Chislehurst area, with seven and six, excluding drivers, re3pectively. Four men, a driver and one vehicle deal with St. PauIs Cray and part of Chislehurst.
Vehicles operate between streets and the tip according to the directions of the gang foreman. The number of journeys varies according to prevailing conditions and the distance. from tip to collection area. The last vehicles at the tip each day take salvaged material back to Beaverwood Road Chislehurst is well off for mechanical facilities, considering its comparatively small size as a transport user. The workshops boast a Stream-Line filter plant, yielding top-up oil and generalpurpose lubricant, a vulcanizer, three portable drills, compressor, airline and greaser, oxy-acetylene welding, and flexible-drive grinders. There are two pits and overhead lifting tackle, also a Skyhi hydraulic jack.
A paraffin cleaning tank takes the place of a degreaser. A pneumatic plug cleaner saves time and labour, and batteries are kept up to scratch by the use of a good charging plant.
Rebores and crankshaft regrinds are done by specialist concerns It is hoped shortly to add a good lathe to the workshop equipment.
r was interested to hear that 10 Caldwell heaters are to be installed for the vehicles that perforce remain out in the cold when the others are " abed " in the sheds.
The Caldwell, which was described in "The Commercial Motor" dated March 14, 1947, not only keeps engines warm,
hut trickle charges batteries in the same operation.
Every vehicle is serviced thoroughly once a month. two being dealt with in every working day. Drivers clean the vehicles.
Main operating records are the costs record log and the vehicle history log. Repairs and maintenance are analysed in the last-mentioned. under " engine. clutch. gearbox. axles," etc., across the pages, with dates listed downwards.
Costs are recorded in the other record under the headings miles, number of hours, fuel, oil, waees, repairs, materials, licences." I could see at a glance, for instance, that one of the Karriers, during April, 1947, did 740 miles in 1891 hours, using 136 gallons of fuel. Repairs and labour cost CI 13s. 3d. and material i3 19s. 9d. Also noted are total cost, cost per mile and cost per hour, these in the case mentioned being respectively 08 17s. 6d.. Is. 0.6d., and 4s. 1.29d.
(Thames to departments for the use of vehicles generally are based on the Ministry of Transport rates. Nhich are by the hour.