Chislehurst's Cleansing
23rd July 1948
Page 40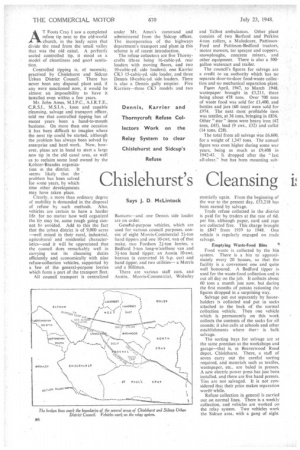 Page 40, 23rd July 1948 —
Chislehurst's Cleansing
Close
Keywords :
Says J. D McLintock Dennis, Karrier and Thornycroft Refuse Collectors Work on the Relay System to clear Chislehurst and Sidcup's Refuse
AT Foots Cray I saw a completed refuse tip next to the old-world church, in the leafy acres that divide the road from the small valley that was the old canal. A perfectly sealed controlled tip, it stood as a model of cleanliness and good sanitation.
Controlled tipping is, of necessity, practised by Chislehurst . and Sidcup Urban District Council. There has never been any disposal plant and, if any were sanctioned now, it would be almost an impossibility to have it installed evert within a few years.
Mr. John Ames, M.I,P.C., A.I.R.T.E., CR.S.1., M.S.I.A , keen and capable cleansing, salvage and transport officer, told me that controlled tipping has of recent years been a hand-to-mouth business. On more than one occasion it has been difficult to imagine where the next tip could be started, although the problem has always been solved by enterprise and hard work. Now, however, plans are in hand to start a large new tip in the old canal area, as well as to reclaim some land owned by the Kolster-Brandes organiza tion in the district. It seems likely that the problem has been solved for some years, by which time other developments may have taken place.
Clearly, a more than ordinary degree of mobility is demanded in the disposal of refuse by such methods. Also, vehicles are certain to have a harder life for no matter how well organized the *tin may be, some rough going cannot be avoided. Add to this the fact that the urban district is of 9,000 acres —well mixed in their rural, industrial, agricultural and residential characteristics—and it will be appreciated that the council does remarkably well in carrying out its cleansing duties efficiently and economically with nine refuse-collection vehicles, supported by a few of the general-purpose lorries which form a part of the transport fleet.
All council transport is centralized under Mr. Ames's command and administered from the Sidcup offices. The incorporation of the highways department's transport and plant in this scheme is of recent introduction.
The refuse coliectots are five Thorny crofts (ttnee being 16-cubic-yd. rear loaders with moving floors, and two 10-cubic-yd. side loaders), one Karrier CK3 15-cubic-yd. side loader, and three Dennis 10-cubic-yd, side loaders. There is also a Dennis gully emptier. Five Karriers—three CK3 models and two Bantams—and one Dennis side loader are on order.
Genehl-purpose vehicles, which are used for various council purposes, consist of eight Morris-Commercial 21-ton hand tippers and one 10-cwt. van of that make, two Fordson 21-ton lorries, a Bedford 3-ton long-wheelbase van and 3-ton hand tipper, an Austin 10-cwt. boxvan (a converted 16 h.p. car) and hand tipper, and two utilities— a Morris and a Hillman.
There are various staff cars, an Austin,. Morris-Commercial, Wolseley and Talbot ambulances. Other plant consists of two Barford and Perkins 4-ton rollers, a Muledozer, PattissonFord and Pattisson-Bedford tractors, motor mowers, tar sprayer and coppers. snowploughs, concrete mixers, and other equipment. ' There is also a 500gallon watercart and trailer.
The council's figures for salvage are a credit to an authority which has no separate door-to-door food-waste collection and no mechanical separation plant.
Fr.om April, 1947, to March 1948, wastepaper brought in £3,211, there being about 478 torts. Over 700 tons of waste food was sold for £1,400, and bottles and jars (60 tons) were sold for £974. The next most profitable item was textiles, at 36 tons, bringing in £836. Other " star " items were heavy iron (42 tons, £45), lead (9 cwt., £32) and cullet (14 tons, £28).
The total from all salvage was £6,600, for a weight of 1,347 tons. The annual figure was even higher during some war years, being as much as £9,408 in 1942-43. It dropped after the last all-clear." but has been mounting sub stantially again. From the beginning of the war to the present day, £53,218 has been earned by salvage.
Trade refuse collected in the district is paid for by traders at the rate of 6d. per bin, although paper, card and rags are collected free. This charge brought in £847 from 1939 to 1948. One vehicle is regularly engaged on trade salvage.
Emptying Waste-food Bins Food waste is collected by the bin system. There is a bin to approximately every 20 houses, so that the facility is a convenient one and quite well honoured. A Bedford tipper is used for the waste-food collection and is out all day on the job. It collects about 60 tons a month just now, but during the first months of potatu rationing the figures dropped in a surprising way.
Salvage put out separately by householders is collected and put in sacks attached to the back of the normal collection vehicle. Then one vehicle which is permanently on this work collects the contents of the sacks for all rounds: it also calls at schools and other establishments where theris bulk salvage.
The sorting bays for salvage are at the same premises as the workshops and garage—that is, in Beaverwood Road depot, Chislehurst. There, a staff of seven carry out the careful sorting required, and materials such as textiles, wastepaper, etc., are baled in presses. A new electric power press has just been installed, and there are five hand presses. Tins are not salvaged. It is not considered that their price makes separation worth' while.
Refuse collection in general is carried out on normal lines. There is a weekly collection, and vehicles are worked on the relay system. Two vehicles work the Sideun area, with a gang of eight