A Neat Valve Collet Unit
23rd July 1948
Page 38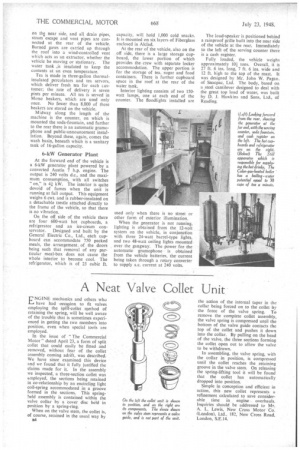 Page 38, 23rd July 1948 —
A Neat Valve Collet Unit
Close
ENGINE mechanics and others who La have had occasion to fit valves employing the split-collet method of retaining the spring, will be well aware of the trouble that is sometimes experienced in getting the two members into position, even when special tools are employed.
In the issue of "The Commercial Motor " dated April 23, a form of split collet that could easily be fitted and removed, without fear Of the collet assembly coming adrift, was described. We have since examined this device and we found that it fully justified the claims made for it. In the assembly we inspected, a three-section collet was employed, the sections being retained in co-relationship by an encircling light coil-spring accommodated in a groove formed in the sections. This springheld assembly is contained within the valve collar by a cover disc held in position by a spring-ring.
When on the valve stem, the collet is, of course, retained in the usual way by R4 the action of the internal taper in the collar being forced on to the collet by the force of the valve spring. To remove the complete collet assembly, the valve spring is compressed until the bottom of the valve guide contacts the top of the collet and pushes it down into the collar. By pulling on the head of the valve, the three sections forming the collet open out to allow the valve to be withdrawn.
In assembling, the valve spring, with the collar in position, is compressed until the collet reaches the retaining groove in the valve stem. On releasing the spring-lifting tool it will be found that the collet has automatically dropped into position.
Simple in conception and efficient in action, this new collet represents a refinement calculated to save considerable time in engine overhauls. Inquiries should be addressed to Mr. A. L. Lewis, New Cross Motor Co. (London), Ltd., 182, New Cross Road. London, S.E,14.