Gruelling Task for Big Tippers
23rd July 1948
Page 32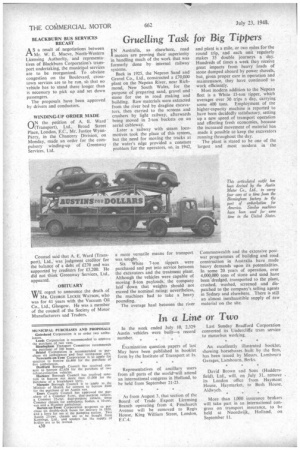 Page 32, 23rd July 1948 —
Gruelling Task for Big Tippers
Close
Keywords :
N Australia, as elsewhere, road motors are proving their superiority in handling much of the work that was formerly done by internal railway systems.
Back in 1925, the Nepean Sand and Gravel Co., Ltd., constructed a £70,000 plant on the Nepean River, near Richmond, New South Wales, for the purpose of preparing sand, gravel and stone for tise in road making and building. Raw materials were extracted from the river bed by dragline excavators, then carried to the screens and crushers by light railway, afterwards being moved in 2-ton buckets on an aerial cableway.
Later a railway with steam locomotives took the place of this system,. but the need for moving the tracks at the water's edge provided a constant problem for the operators, so, in 1942, and plant is a mile, or two miles for the round trip, and each unit regularly makes 35 double journeys a day. Hundreds of times a week they receive great impacts from heavy loads of stone dumped aboard by power shovels, but, given proper care in operation and maintenance, they have continued to work efficiently.
Most modern addition to the Nepean fleet is a White 13-ton tipper, which averages over 30 trips a day, carrying some 400 tons. Employment of the higher-capacity machine is reported to have been decidedly satisfactory, setting up a new speed of transport operation and effecting fresh economies, because the increased movement of material has made it possible to keep the excavators running throughout the day. .
The plant is stated to be one of the largest and most modern in the Counsel said that A. E. Ward (Transport), Ltd., was judgment creditor for the balance of a debt of £270 and was supported by creditors for £.3,200. He did not think Greenway Services, Ltd., appeared, OBITUARY
WE regret to announce the death of MR. GEORGE LECKIE WATSON, who was for 41 years with the Vacuum Oil Co., Ltd., Glasgow. He was a member of the council of the Society of Motor Manufacturers and Traders.
MUNICIPAL PURCHASES AND PROPOSALS Gateshead Corporation is to order two ambuhares.
Leeds corporation is recommended to approve the purchase.of two vans.
BfrmhaghiuH Transport Committee recommends the purchase of 360 buses. 1Rristol Corporation is recommended to Purchase six ambulances and tour sitting-case cars, Newcastle-on-Tyne Corporation is to apply for sanction to borrow £6,400 for the purchase of five ambulances.
Dartford Borough Council has received consent to borrow £2,658 for the purchase of two refuse-collection vehicles, Hackney Borough Council has received sanction to borrow not more than £1,000 for the purchase of a breakdown lorry. Margate Borough Council is to apply to the Minister of Health for consent to borrow £600 for the purchase of an Austin van. ' Essex County Council has approved the purchase of a Commer 8-cwt. dual-purpose vehicle. a Commer 25-cwt, dual-purpose vehicle. three Commer chassis for ambulance bodies, a 10-cwt. van and a Humber ambulance. Burton-on-Trent Corporation proposes to pur chase six double-deck Mises for delivery in 1950, and a lorry for use at the pumping station. Two Austin 25-cwt, chassis are to be bought front Kennings. Ltd. and tenders for the supply of bodies are to be invited.
a more versatile means for transport was sought.
Six White 7-ton tippers were purchased and put into service between the excavators and the treatment plant. Although the vehicles were capable of moving 8-ton payloads, the company laid' down that weights should not exceed the nominal rating; nevertheless, the machines had to take a heavy pounding.
The average haul between the river Commonwealth and the extensive postwar programmes of building and road construction in Australia have made heavy demands upon its potentialities. In some 20 years of operation, over 4,000,000 tons of stone and sand have been dredged, transported to the plant, crushed, -washed, screened and dispatched to the company's selling agents in Sydney and elsewhere. There is still an almost inexhaustible supply of raw material on the site.