* Personal Pars *
23rd July 1948
Page 30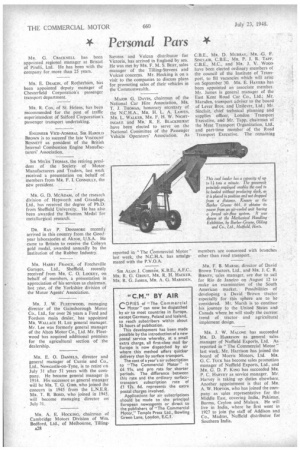 Page 30, 23rd July 1948 —
* Personal Pars *
Close
Mn. G. CRACKNELL has been appointed regional manager at Bristol of Pirelli, Ltd. He has been with the company for more than 25 years.
• MR. E. DEAKIN, of Rotherham, has been appointed deputy manager of Chesterfield Corporation's passenger transport department.
MR. R. Cox, of St. Helens, has been recommended for the post of traffic superintendent of Salford Corporation's passenger transport undertaking.
ENGINEER VICE-ADMIRAL SIR HAROLD BROWN is to succeed the late Viscouta-r BENNETT as president of the British Internal Combustion Engine Manufacturers' Association.
SIR MTLIS THOMAS, the retiring president of the Society of Motor Manufacturers and Traders, last week received a presentation on behalf of members from MR. F. I. CONNOLLY, the new president.
MR. G. D. McAoAm, of the research division of Hepworth and Grandage, , Ltd., has received the degree of Ph.D. from Sheffield University. He has also been awarded the Brunton Medal for metallurgical research.
DR. RAY P. DINSMORE recently arrived in this country from the Goodyear laboratories at Akron, U.S.A. He came to Britain to receive the Colwyn gold medal, awarded annually by the Institution of the Rubber Industry.
MR. HARRY FRANCE, Of Frecheville Garages, Ltd., Sheffield, recently received from MR. C. 0. LOCKEY, On behalf of members, a presentation in appreciation of his services as chairman, last year, of the Yorkshire division of the Motor Agents' Association.
MR. J. W. FLEETWOOD, managing director of the Gainsborough Motor Co., Ltd., for over 26 years a Ford and Fordson main dealer, has appointed MR. WALLACE H. LEE general manager. Mr. Lee was formerly general manager -of the Alton Motor Co., Ltd. Mr. Fleetwood has acquired additional premises for the agricultural section of the dealership.
MR. E. 0. DANIELS, director and general manager of Currie and Co., Ltd.. Newcastle-on-Tyne, is to retire cn July 31 after 51 years with the company. He became general manager in 1914. His successor as general manager will be MR. T. G. GIBR, who joined the concern in 1945 from the L.N.E.R. MR. T. B. BOND, who joined in 1945, will become managing director on July 3 I .
MR A. E. HOCKING, chairman of Cambridge Motors Division of Wm, Bedford, Ltd., of Melbourne, Tilling
A28
Stevens and Vulcan distributor for Victoria, has arrived in England by sea. He was met by MR. F. M. S. BEST, sales manager of the Tilling-Stevens and Vulcan concerns. Mr. Hocking is on a visit to the companies to discuss plans for promoting sales of their vehicles in the -Commonwealth.
MAJOR G. DAVIS, chairman of the National Car Hire Association, MR. T. J. THOMAS, honorary secretary of the N.C.H.A., MR. H. L. A. LAWES, MR. L. WALKER, MR. F. H. W. NIGHTINGALE and MR. R. E. BLACKFIURsT have been elected to serve on the National Committee of the Passenger Vehicle Operators' Association. As
reported in "The Commercial Motor" last week, the N.C.H.A. has amalgamated with the P.V.O.A.
• SIR ALAN A.F.C., MR, R. G. GROUT, MR. R. H. HACKER, MR. R. G. JAMES, MR. A. G. MARSDEN, C.B.E., MR. D. MURRAY, MR. -G. F. SINCLAIR, C.B.E., MR. P. I. R. TAPP, C.B.E., MC., and MR. J. V. WOOD have been elected ordinary members of the council of the Institute of Transport, to fill vacancies which will arise on September 30. MR. E. HAVERS has been appointed an associate member. Mr. James is general manager of the Fast Kent Road Car Co., Ltd.; Mr. Marsden, transport adviser to the board of Lever Bros. and Unilever, Ltd.; Mr. Sinclair, chief technical planning and supplies officer, London Transport Executive, and Mr. Tapp, chairman of the Meat Transport Organization, Ltd., and part-time member of the Road Transport Executive. The remaining
members are concerned with branches other than road transport.
MR. F. B. MARSH. director of David Brown Tractors, Ltd., and MR. J. C. R. BIRNEY, sales manager, are due to sail for Rio de Janeiro on August 12 to make art examination of the South American market. Possibilities of developing a David Brown tractor especially for this sphere are to be considered. Mr. Marsh is to continue his journey to the United States and Canada where he will study the current trend of tractor and agricultural implement design.
MR. J. W. MALONE has succeeded MR. D. HARRISON as general sales manager of Nuffield Exports. Ltd. As reported in "The Commercial Motor" last week, Mr. Harrison has joined the board of Morris Motors, Ltd. MR. G. C. TUCK has become sales promotion manager of Nuffield Exports, Ltd., and MR. G. D. P. KING has succeeded MR. .P. C. HARVEY as service manager. Mr. Harvey is taking up duties elsewhere. Another appointment is that of MR. A. W. HOPTON, who has joined the company as sales representative for the Middle East, covering India, Pakistan. Burma, Ceylon and Malaya. He will live in India, where he first went in 1927 to join the staff of Addison and Co., Madras, Nuffield distributor for Southern India.
Tags
People
:
WALLACE H. LEE
,
F. I. CONNOLLY
,
J. W. MALONE
,
A. W. HOPTON
,
M. S. BEST
,
F. B. MARSH
,
F. SINCLAIR
,
J. V. WOOD
,
A. E. HOCKING
,
R. H. HACKER
,
R. G. JAMES
,
L. WALKER
,
E. DEAKIN
,
D. HARRISON
,
T. J. THOMAS
,
G. DAVIS
,
G. C. TUCK
,
E. HAVERS
,
C. R. BIRNEY
,
D. MURRAY
,
R. TAPP
,
G. CRACKNELL
,
G. D. McAoAm
,
A. G. MARSDEN
,
HAROLD BROWN
,
MTLIS THOMAS
,
T. G. GIBR
,
R. Cox
,
RAY P. DINSMORE
,
J. W. FLEETWOOD
,
C. HARVEY