Hostess Serves Refreshments in New Luxury Touring Coach
23rd July 1948
Page 29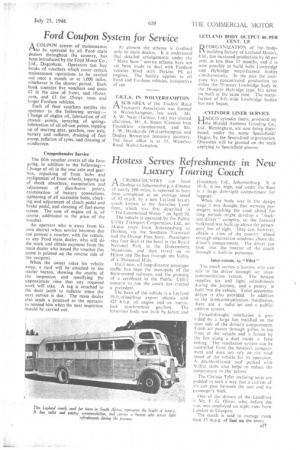 Page 29, 23rd July 1948 —
Hostess Serves Refreshments in New Luxury Touring Coach
Close
A CROSS-COUNTRY run from IA Durban to Johannesburg, a distance of nearly 500 miles, is reported to have been completed at an average speed of 42 m.p.h. by a new Leyland luxury coach known as the Astraline. Landliner, which was first described in "The Commercial Motor" an April 30.
The vehicle is operated by the Public Utility Transport Corporation, Ltd., on 14-day tours from Johannesburg to Durban, via the Southern Transvaal and the Orange Free State. Passengers stay four days at the hotel in the Royal National Park in the Drakensherg Mountains, and then travel on to Hilton and Durban through the Valley of a Thousand Hills.
Until now, all long-distance passenger traffic has been the monopoly of the State-owned railways, and the granting of a certificate to the Public Utility concern to run the coach has created a precedent.
The basis of the vehicle is a Leyland 19-ft.-wheelbase export chassis with 125 b.h.p. oil engine and an inertialock synchromesh gearbox. The luxurious body was built by Grant and
Grantham, Ltd., Johannesburg. It is 10 ft, 6 ins, high, and under the floor is a large dust-tight compartment for luggage.
When the body was in the design stage it was thought that nervous passengers watching the road ahead for long periods might develop a " backseat-driver " complex, so the forward bulkhead was built up above the passengers' line of sight. They can, however, obtain a view of the couniry ahead through observation windows above the driver's compartment. 'rhe driver can look into the interior of the coach through a built-in periscope.
Inter-comm. to "Pilot"
The coach carries a hostess, who can talk to the driver through an intercommunication system. The hostess supplies tea and light refreshments during the journey, and a pantry is built into the vehicle. Toilet accommodation is also provided. In addition to the intercommunication installation, there are a radio set and a publicaddress system.
Forced-draught ventilation is provided by a large fan installed on the near side of the driver's compartment. Fresh air passes through grilles in the front of the vehicle and is forced by the fan along a duct inside a false ceiling. The ventilation system can be controlled from the hostess's compartment and does not rely on the road speed of the vehicle for its operation. A double-skinned roof packed with Stillite slabs also helps to reduce the temperature in the saloon, The Christie Tyler reclining seats are padded in such a way that a current of air can pass between the seat and the passenger's back.
One of the drivers of the Landliner Is Mr. F. G. Oliver. who, before the war, was employed on night runs from London to Glasgow.
The coach is said to average more than 13 m.p.g. of fuel On the tours. A27