Ford Coupon System for Service
23rd July 1948
Page 29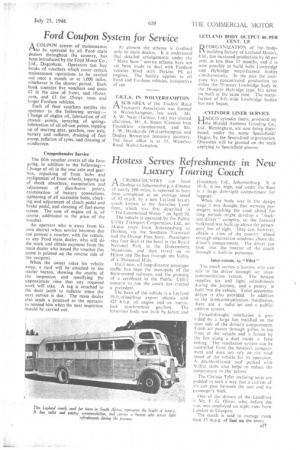 Page 29, 23rd July 1948 —
Ford Coupon System for Service
Close
A COUPON system of maintenance. I–Ito be operated by all Ford main dealers throughout the country, has been introduced by the Ford Motor Co., Ltd., Dagenham. Operators can buy books of vouchers which cover certain maintenance operations to be carried out once a month or at 1,000 miles, whichever is the shorter period. Each hook contains five vouchers and costs £2 in the case of 5-cwt. and 10-ewt. vans, and £3 for 15-cvyt. vans and larger Fordson vehicles.
Each of four vouchers entitles the operator to the following service:— Change of engine oil, lubrication of all chassis points, spraying of springs, lubrication of all oil-can points, topping up of steering gear, gearbox, rear axle, battery and radiator, draining of fuel pump, inflation of tyres, and cleaning of windscreen.
At present the scheme is confined only to main dealers, it is understood that detailed arrangements under the "Make Sure" service scheme have not yet been made to deal with Fordson vehicles fitted with Perkins 136 oil engines. The facility applies to all Ford and Fordson vehicles, irrespective of ace.
T.R.T.A. IN WOLVERHAMPTON
ASUB-AREA of the Traders' Road Transport Association was formed in Wolverhampton; last week. Mr. A. W. Nash (Tarmac, Ltd.) was elected Chairman, Mr. A. Smart (Cannon Iron Foundries) vice-chairman, and Mr. J. W. Hardcastle (Wolverhampton and Dudley Breweries) honorary secretary. The local office is at 35, Waterloo Road. Wolverhampton.
LEYLAND BODY OUTPUT 60 PER CENT. UP
upo EORGANIZATION of the body building factory of Leyland Motors, lid., has increased production by 60 per cent. in less than 12 months, and it is now possible to build both Lowbridge and Hybridge metal-framed bodies simultaneously. In the past the Company has concentrated production on either the 53-seater Lowbridge body or the 56-seater Hybridge type, but never on both at the same time. The manufacture of 8-ft.-wide Lowbridge bodies has now begun.
CYLINDER LINER SERVICE
HAGC0 cylinder liners, produced by the Harold Andrews Grinding Co., Ltd., Birmingham, are now being distributed, under the name Specialloid/ Hagco, by the Specialloid organization. Discounts will be granted on the scale applying to Specialloid pistons.