Comprehensive Service The fifth voucher covers all the foregoing, in
23rd July 1948
Page 29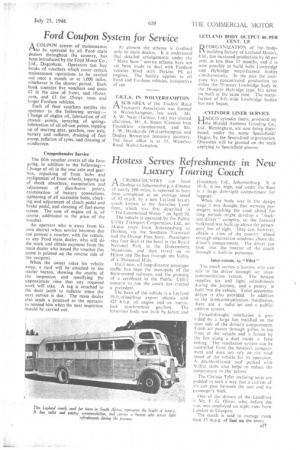 Page 29, 23rd July 1948 —
Comprehensive Service The fifth voucher covers all the foregoing, in
Close
addition to the following:— Change of oil in the rear axle and gearbox, repacking of front hubs and realignment of front wheels, topping up of shock absorbers, examination and adjustment of distributor points, examination of battery connections, tightening of all accessible bolts, checking and adjustment of clutch pedal and brake pedal, and cleaning of fuel-pump screen. The cost of engine oil is, of course, additional to the price of the voucher.
An operator who is away from his own district when service becomes due can present a voucher, with the vehicle, to any Ford main dealer, who will do the work and obtain payment from the main dealer who issued the voucher (his name is printed on the reverse side of the coupon).
When the owner takes his vehicle away, a card will be attached to the starter button, showing the results of the inspection and specifying the approximate time that any required work will take. A tag is attached to the door jamb to indicate when the next service is due. The main dealer also sends a postcard to the operator to remind him when the next inspection should be carried out.