• A Bus Station Over Liverpool Street ?
23rd July 1948
Page 26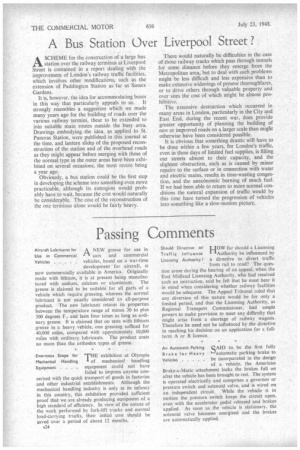 Page 26, 23rd July 1948 —
• A Bus Station Over Liverpool Street ?
Close
ASCHEME for the construction of a large bus station over the railway terminus at Liverpool Street is contained in a report dealing with the improvement of London's railway traffic facilities, which involves other modifications, such as the extension of Paddington Station as far as Sussex Gardens.
It is, however, the idea for accommodating buses in this way that particularly appeals to us. It strongly resembles a suggestion which we made many years ago for the building of roads over the various railway termini, these to be extended to join suitable main routes outside the busy area. Drawings embodying the idea, as applied to St. Pancras Station, were published in this journal at the time, and lantern slides of the proposed reconstruction of the station and of the overhead roads as they might appear before merging with those of the normal type in the outer areas have been exhibited on several occasions, the most recent being a year ago.
Obviously, a bus station could be the first step in developing the scheme into something even more practicable, although its extension would probably have to wait, because the cost would naturally be considerable. The cost of the reconstruction of the one terminus alone would be fairly heavy. There would naturally be difficulties in the case of those railway tracks which pass through tunnels for some distance before they emerge from the Metropolitan area, but to deal with such problems might be less difficult and less expensive than to make extensive widenings of present thoroughfares, or to drive others through valuable property and over sites the cost of which might be almost prohibitive.
The extensive destruction which occurred in many areas in London, particularly in the City and. East End, during the recent war, does provide greater opportunity of planning the building of new or improved roads on a larger scale than might otherwise have been considered possible.
It is obvious that something drastic will have to be done within a few years, for London's traffic, even in these days of limited fuel supplies, is filling our streets almost to their capacity, and the slightest obstruction, such as is caused by minor repairs to the surface or in connection with water and electric mains, results in time-wasting congestion, and the uneconomic burning of much fuel. If we had been able to return to more normal conditions the natural expansion of traffic would by this time have turned the progression of vehicles into something like a slow-motion picture.