Hanson expands with more jobs and HGVs
23rd January 2014
Page 8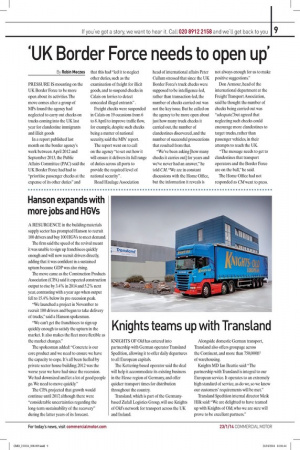 Page 8, 23rd January 2014 —
Hanson expands with more jobs and HGVs
Close
A RESURGENCE in the building materials supply sector has prompted Hanson to recruit 100 drivers and buy 100 HGVs to meet demand.
The firm said the speed of the revival meant it was unable to sign up franchisees quickly enough and will now recruit drivers directly, adding that it was confident in a sustained upturn because GDP was also rising.
The move came as the Construction Products Association (CPA) said it expected construction output to rise by 3.4% in 2014 and 5.2% next year, contrasting with a year ago when output fell to 15.4% below its pre-recession peak.
"We launched a project in November to recruit 100 drivers and began to take delivery of trucks," said a Hanson spokesman.
"We can't get the franchisees to sign up quickly enough to satisfy the upturn in the market. It also makes the fleet more flexible as the market changes."
The spokesman added: "Concrete is our core product and we need to ensure we have the capacity to cope. It's all been fuelled by private sector house building; 2012 was the worse year we have had since the recession. We had downsized and let a lot of good people go. We need to move quickly."
The CPA projected that growth would continue until 2017, although there were "considerable uncertainties regarding the long-term sustainability of the recovery" during the latter years of its forecast.