Morganite fined over fatal crush
23rd January 2014
Page 7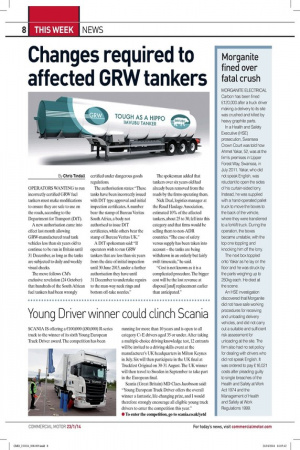 Page 7, 23rd January 2014 —
Morganite fined over fatal crush
Close
MORGANITE ELECTRICAL Carbon has been fined £120,000 after a truck driver making a delivery to its site was crushed and killed by heavy graphite parts.
In a Health and Safety Executive (HSE) prosecution, Swansea Crown Court was told how Ahmet Yakar, 52, was at the firm's premises in Upper Forest Way, Swansea, in July 2011. Yakar, who did not speak English, was reluctant to open the sides of his curtain-sided lorry. Instead, he was supplied with a hand-operated pallet truck to move the boxes to the back of the vehicle, where they were transferred to a forklift truck. During the operation, the boxes became unstable, with the top one toppling and knocking him off the lorry.
The next box toppled onto Yakar as he lay on the floor and he was struck by the parts weighing up to 250kg each. He died at the scene.
An HSE investigation discovered that Morganite did not have safe working procedures for receiving and unloading delivery vehicles, and did not carry out a suitable and sufficient risk assessment for unloading at the site. The firm also had no set policy for dealing with drivers who did not speak English. It was ordered to pay £16,021 costs after pleading guilty to single breaches of the Health and Safety at Work Act 1974 and the Management of Health and Safety at Work Regulations 1999.