Bath city centre HGV ban proposals could be revived
23rd January 2014
Page 6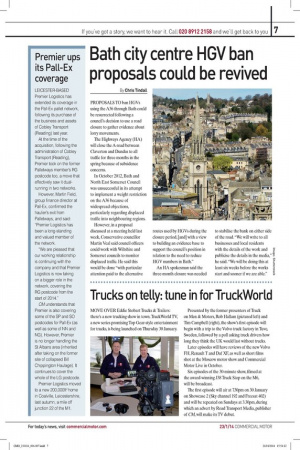 Page 6, 23rd January 2014 —
Bath city centre HGV ban proposals could be revived
Close
By Chris Tindall
PROPOSALS TO ban HGVs using the A36 through Bath could be resurrected following a council's decision to use a road closure to gather evidence about lorry movements.
The Highways Agency (HA) will close the A-road between Claverton and Dundas to all traffic for three months in the spring because of subsidence concerns.
In October 2012, Bath and North East Somerset Council was unsuccessful in its attempt to implement a weight restriction on the A36 because of widespread objections, particularly regarding displaced traffic into neighbouring regions. However, in a proposal discussed at a meeting held last week, Conservative councillor Martin Veal said council officers could work with Wiltshire and Somerset councils to monitor displaced traffic. He said this would be done "with particular attention paid to the alternative
routes used by HGVs during the closure period, [and] with a view to building an evidence base to support the council's position in relation to the need to reduce HGV numbers in Bath." An HA spokesman said the three-month closure was needed
to stabilise the bank on either side of the road. "We will write to all businesses and local residents with the details of the work and 7 publicise the details in the media," he said. "We will be doing this at =least six weeks before the works start and sooner if we are able."