It's big and it's clever
23rd January 2014
Page 39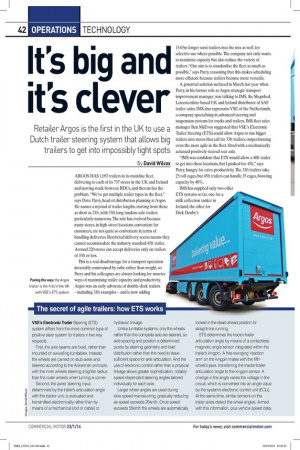 Page 40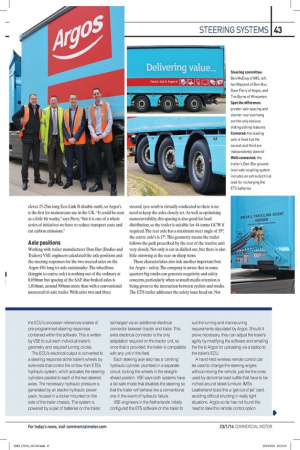 Page 41
Page 39, 23rd January 2014 —
It's big and it's clever
Close
Retailer Argos is the first in the UK to use a Dutch trailer steering system that allows big trailers to get into impossibly tight spots By David Wilcox
ARGOS HAS 1,053 trailers in its mainline fleet, delivering to each of its 737 stores in the UK and Ireland and moving stock between RDCs, and therein lies the problem. "We've got multiple trailer types in the fleet," says Dave Parry, head of distribution planning at Argos. He names a myriad of trailer lengths, starting from those as short as 21ft, with 33ft-long tandem-axle trailers particularly numerous. The mix has evolved because many stores, in high-street locations convenient for customers, are not quite so convenient in terms of handling deliveries. Restricted delivery access means they cannot accommodate the industry standard 45ft trailer. Around 220 stores can accept deliveries only on trailers of 33ft or less. This is a real disadvantage for a transport operation invariably constrained by cube rather than weight, so Parry and his colleagues are always looking for smarter ways of maximising trailer capacity and productivity. Argos was an early advocate of double-deck trailers — including 33ft examples — and is now adding
15.65m longer semi-trailers into the mix as well, for selective use where possible. The company not only wants to maximise capacity but also reduce the variety of trailers. "Our aim is to standardise the fleet as much as possible," says Parry, reasoning that this makes scheduling more efficient because trailers become more versatile.
A potential solution surfaced in March last year when Parry, in his former role as Argos strategic transport improvement manager, was talking to IMS, the Shepshed, Leicestershire-based UK and Ireland distributor of SAF trailer axles. IMS also represents VSE of the Netherlands, a company specialising in advanced steering and suspension systems for trucks and trailers. IMS fleet sales manager Ben McEvoy suggested that VSE's Electronic Trailer Steering (ETS) could allow Argos to run bigger trailers into stores that call for 33ft trailers, outperforming even the most agile in the fleet, fitted with a mechanically actuated positively steered rear axle. "IMS was confident that ETS would allow a 40ft trailer to get into these locations, but I pushed for 45ft," says Parry, hungry for extra productivity. The 33ft trailers take 25 roll cages, but 45ft trailers can handle 35 cages, boosting
capacity by 40%. IMS has supplied only two other ETS systems so far, one for a milk collection tanker in Ireland, the other for Dick Denby's
clever 25.25m-long Eco-Link B-double outfit, so Argos's is the first for mainstream use in the UK. "It could be seen as a little bit wacky," says Parry, "but it is one of a whole series of initiatives we have to reduce transport costs and cut carbon emissions." Axle positions Working with trailer manufacturer Don-Bur (Bodies and Trailers) VSE engineers calculated the axle positions and the steering responses for the two steered axles on the Argos 45ft-long tri-axle curtainsider. The wheelbase (kingpin to centre axle) is nothing out of the ordinary at 8,050mm but spacing of the SAF disc-braked axles is 1,810mm, around 500mm more than with a conventional unsteered tri-axle trailer. With axles two and three
steered, tyre scrub is virtually eradicated so there is no need to keep the axles closely set. As well as optimising manoeuvrability, this spacing is also good for load distribution, so the trailer is suitable for 44-tonne GCW if required. The rear axle has a maximum steer angle of 350; the centre axle's is 17'. This geometry means the trailer follows the path prescribed by the rear of the tractive unit very closely. Not only is cut-in dialled-out, but there is also little outswing at the rear on sharp turns. These characteristics also tick another important box for Argos — safety. The company is aware that in some quarters big trucks can generate negativity and safety concerns, particularly when so much media attention is being given to the interaction between cyclists and trucks. The ETS trailer addresses the safety issue head on. Not
only does it reduce the number of truck miles operated — a fundamental safety and environmental bonus — but less cut-in and outswing means the trailer's path is far friendlier to other road users when negotiating roundabouts or turning corners. And because the trailer follows the tractor more faithfully than a conventional trailer, the mirrors give a better view of what's going on behind, which reduces the size of blind spots. Operational advantages
The additional weight of steering two of the trailer's three axles with ETS is surprisingly modest, at just 400kg-450kg. Arran Leatherland, IMS sales and marketing manager, says this is a tonne less than steering two axles via the usual mechanical linkages and turntables. "But the real point is that traditional systems can't do the same because they are not intelligent enough, so wouldn't deliver the operational advantages that Argos is looking for," he adds. There is no avoiding the question of cost. Leatherland says two-axle ETS steering adds i18,000-£20,000 to the price of a typical tri-axle trailer, so this level of sophistication is not cheap. However, he argues that the huge hike in productivity and reduction in road miles operated rapidly recoups the additional capital cost and thereafter the savings begin to accrue. On that basis, far from being expensive, the ETS trailer begins to look like a cost-effective solution — even without attempting to evaluate the reduction in tyre wear that might be
expected as a result of reducing scrub. Additional maintenance is restricted to greasing the steering axles' kingpins at intervals of up to six months and the occasional hydraulic filter change; VSE hydraulics are self-bleeding.
When CM saw the ETS trailer in action last month it was still running trials to establish exactly what it can do and where it can go. It is working out of the Argos regional distribution centre in Bridgwater, Somerset. This RDC serves 104 stores in the South West, extending northwards into Worcestershire. Initially, the ETS trailer has been used for stores such as Penzance, Newquay, St Austell and Truro, all normally restricted to 33ft trailers and where the long stem distance — 400km-500km per round trip — really maximises the operational savings of running a more productive outfit.
"It's been brilliant," says Parry. "It's gone in everywhere we wanted it." Driver response has also been good. "We've had no issues at all," reports Tim Byrne, contract distribution manager at Bridgwater for Wincanton, which runs the site's transport operation. "The reactions of all the drivers who have used it so far have been positive." After a few weeks of experimentation, the real assessment of the ETS trailer is now under way. Argos plans to give it a very thorough evaluation. "We are not due to replace any of the 33ft trailers for another couple of years, so by then we will know enough about it to take the appropriate decision," says Parry. At best, the ETS concept could prove to be so successful and cost-effective it could eventually replace all 33ft trailers in the Argos fleet, becoming a truly versatile animal. At worst, it will have been an interesting and ground-breaking project. •