aking up the stack
23rd January 2014
Page 35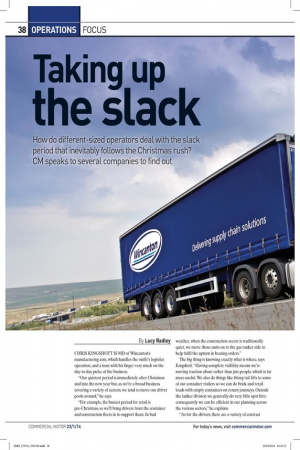 Page 36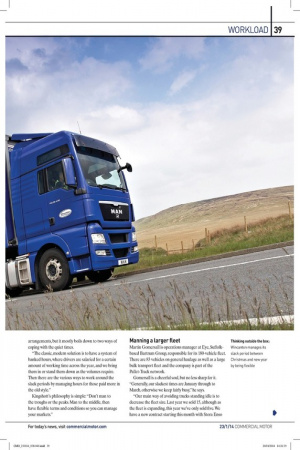 Page 37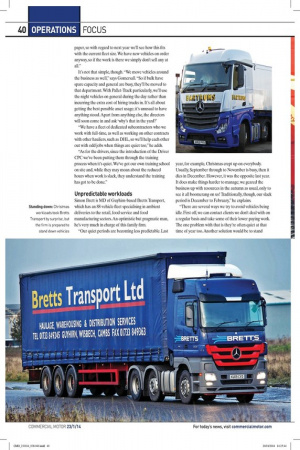 Page 38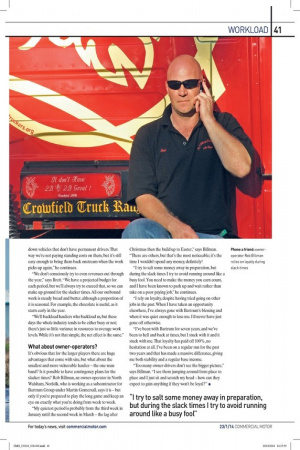 Page 35, 23rd January 2014 —
aking up the stack
Close
How do different-sized operators deal with the slack period that inevitably follows the Christmas rush? CM speaks to several companies to find out By Lucy Radley
CHRIS KINGSHOTT IS MD of Wincanton's manufacturing arm, which handles the outfit's logistics operation, and a man with his finger very much on the day-to-day pulse of the business.
"Our quietest period is immediately after Christmas and into the new year but, as we're a broad business covering a variety of sectors, we tend to move our driver pools around," he says. "For example, the busiest period for retail is pre-Christmas, so we'll bring drivers from the container and construction fleets in to support them. In bad
weather, when the construction sector is traditionally quiet, we move those units on to the gas tanker side to help fulfil the upturn in heating orders."
The big thing is knowing exactly what is where, says Kingshott. "Having complete visibility means we're moving traction about rather than just people, which is far more useful. We also do things like fitting tail-lifts to some of our container trailers so we can do brick and retail loads with empty containers on return journeys. Outside the tanker division we generally do very little spot hire; consequently we can be efficient in our planning across the various sectors," he explains. "As for the drivers, there are a variety of contract
arrangements, but it mostly boils down to two ways of coping with the quiet times.
"The classic, modern solution is to have a system of banked hours, where drivers are salaried for a certain amount of working time across the year, and we bring them in or stand them down as the volumes require. Then there are the various ways to work around the slack periods by managing hours for those paid more in the old style."
Kingshott's philosophy is simple: "Don't man to the troughs or the peaks. Man to the middle, then have flexible terms and conditions so you can manage your markets." Manning a larger fleet
Martin Gomersall is operations manager at Eye, Suffolkbased Bartrum Group, responsible for its 180-vehicle fleet. There are 83 vehicles on general haulage as well as a large bulk transport fleet and the company is part of the Pallet-Track network.
Gomersall is a cheerful soul, but no less sharp for it. "Generally, our slackest times are January through to March, otherwise we keep fairly busy," he says. "Our main way of avoiding trucks standing idle is to decrease the fleet size. Last year we sold 15, although as the fleet is expanding, this year we've only sold five. We have a new contract starting this month with Stora Enso
paper, so with regard to next year we'll see how this fits with the current fleet size. We have new vehicles on order anyway, so if the work is there we simply don't sell any at all."
It's not that simple, though. "We move vehicles around the business as well," says Gomersall. "So if bulk have spare capacity and general are busy, they'll be moved to that department. With Pallet-Track particularly, we'll use the night vehicles on general during the day rather than incurring the extra cost of hiring trucks in. It's all about getting the best possible asset usage; it's unusual to have anything stood. Apart from anything else, the directors will soon come in and ask 'why's that in the yard?'
"We have a fleet of dedicated subcontractors who we work with full-time, as well as working on other contracts with other hauliers, such as DHL, so we'll help each other out with odd jobs when things are quiet too," he adds.
"As for the drivers, since the introduction of the Driver CPC we've been putting them through the training process when it's quiet. We've got our own training school on site and, while they may moan about the reduced hours when work is slack, they understand the training has got to be done." Unpredictable workloads
Simon Brett is MD of Guyhirn-based Bretts Transport, which has an 88-vehicle fleet specialising in ambient deliveries to the retail, food service and food manufacturing sectors. An optimistic but pragmatic man, he's very much in charge of this family firm. "Our quiet periods are becoming less predictable. Last
year, for example, Christmas crept up on everybody. Usually, September through to November is busy, then it dies in December. However, it was the opposite last year. It does make things harder to manage; we geared the business up with resources in the autumn as usual, only to see it all boomerang on us! Traditionally, though, our slack period is December to February," he explains. "There are several ways we try to avoid vehicles being idle. First off we can contact clients we don't deal with on a regular basis and take some of their lower paying work. The one problem with that is they're often quiet at that time of year too. Another solution would be to stand
down vehicles that don't have permanent drivers. That way we're not paying standing costs on them, but it's still easy enough to bring them back onstream when the work picks up again," he continues.
"We don't consciously try to even revenues out through the year," says Brett. "We have a projected budget for each period, but we'll always try to exceed that, so we can make up ground for the slacker times. All our outbound work is steady bread and butter, although a proportion of it is seasonal. For example, the chocolate is useful, as it starts early in the year.
"We'll backload hauliers who backload us, but these days the whole industry tends to be either busy or not; there's just so little variance in resources to average work levels. While it's not that simple, the net effect is the same."
What about owner-operators?
It's obvious that for the larger players there are huge advantages that come with size, but what about the smallest and more vulnerable haulier — the one-man band? Is it possible to have contingency plans for the slacker times? Rob Billman, an owner-operator in North Walsham, Norfolk, who is working as a subcontractor for Bartrum Group under Martin Gomersall, says it is — but only if you're prepared to play the long game and keep an eye on exactly what you're doing from week to week. "My quietest period is probably from the third week in January until the second week in March — the lag after
Christmas then the build up to Easter," says Billman. "There are others, but that's the most noticeable; it's the time I wouldn't spend any money, definitely!
"I try to salt some money away in preparation, but during the slack times I try to avoid running around like a busy fool. You need to make the money you earn count, and I have been known to park up and wait rather than take on a poor paying job," he continues.
"I rely on loyalty, despite having tried going on other jobs in the past. When I have taken an opportunity elsewhere, I've always gone with Bartrum's blessing and when it was quiet enough to lose me. I'd never have just gone off otherwise.
"I've been with Bartrum for seven years, and we've been to hell and back at times, but I stuck with it and it stuck with me. That loyalty has paid off 100%, no hesitation at all. I've been on a regular run for the past two years and that has made a massive difference, giving me both stability and a regular base income. "Too many owner-drivers don't see the bigger picture," says Billman. "I see them jumping around from place to place and I just sit and scratch my head — how can they expect to gain anything if they won't be loyal?" •