Licences suspended over false records
23rd January 2014
Page 20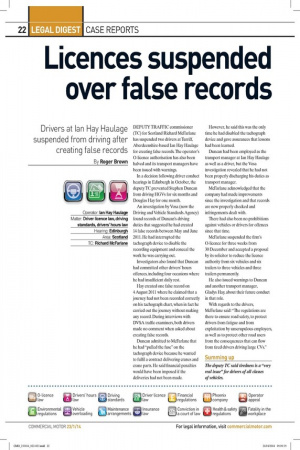 Page 20, 23rd January 2014 —
Licences suspended over false records
Close
Drivers at Ian Hay Haulage suspended from driving after creating false records By Roger Brown Operator: Ian Hay Haulage Matter: Driver licence law, driving standards, drivers' hours law Hearing: Edinburgh Area: Scotland TO: Richard McFarlane
DEPUTY TRAFFIC commissioner (TC) for Scotland Richard McFarlane has suspended two drivers at Turriff, Aberdeenshire-based Ian Hay Haulage for creating false records. The operator's 0-licence authorisation has also been halved and its transport managers have been issued with warnings.
In a decision following driver conduct hearings in Edinburgh in October, the deputy TC prevented Stephen Duncan from driving HGVs for six months and Douglas Hay for one month.
An investigation by Vosa (now the Driving and Vehicle Standards Agency) found records of Duncan's driving duties that suggested he had created 14 false records between May and June 2011. He had interrupted the tachograph device to disable the recording equipment and conceal the work he was carrying out.
Investigators also found that Duncan had committed other drivers' hours offences, including four occasions where he had insufficient daily rest.
Hay created one false record on 4 August 2011 where he claimed that a journey had not been recorded correctly on his tachograph chart, when in fact he carried out the journey without making any record. During interviews with DVSA traffic examiners, both drivers made no comment when asked about creating false records.
Duncan admitted to McFarlane that he had "pulled the fuse" on the tachograph device because he wanted to fulfil a contract delivering cranes and crane parts. He said financial penalties would have been imposed if the deliveries had not been made.
However, he said this was the only time he had disabled the tachograph device and gave assurances that lessons had been learned.
Duncan had been employed as the transport manager at Ian Hay Haulage as well as a driver, but the Vosa investigation revealed that he had not been properly discharging his duties as transport manager.
McFarlane acknowledged that the company had made improvements since the investigation and that records are now properly checked and infringements dealt with.
There had also been no prohibitions against vehicles or drivers for offences since that time.
McFarlane suspended the firm's 0-licence for three weeks from 30 December and accepted a proposal by its solicitor to reduce the licence authority from six vehicles and six trailers to three vehicles and three trailers permanently.
He also issued warnings to Duncan and another transport manager, Gladys Hay, about their future conduct in that role.
With regards to the drivers, McFarlane said: "The regulations are there to ensure road safety, to protect drivers from fatigue and from exploitation by unscrupulous employers, as well as to protect other road users from the consequences that can flow from tired drivers driving large CVs." Summing up
The deputy TC said tiredness is a "very real issue" for drivers of all classes of vehicles.