Setting high standards
23rd January 2014
Page 18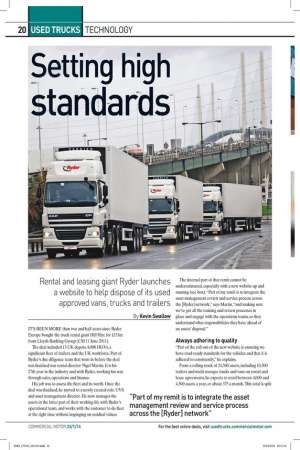 Page 19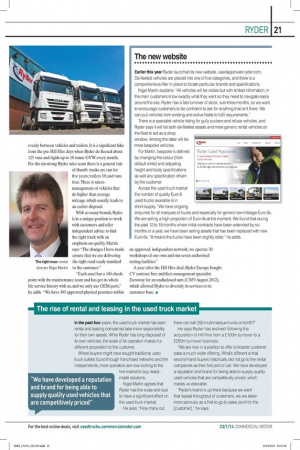 Page 18, 23rd January 2014 —
Setting high standards
Close
Rental and leasing giant Ryder launches a website to help dispose of its used approved vans, trucks and trailers By Kevin Swallow
IT'S BEEN MORE than two and half years since Ryder Europe bought the truck rental giant Hill Hire for £151m from Lloyds Banking Group (CM11 June 2011).
The deal included 13 UK depots, 4,000 HGVs, a significant fleet of trailers, and the UK workforce. Part of Ryder's due diligence team that went in before the deal was finalised was rental director Nigel Martin. It is his 27th year in the industry and with Ryder, working his way through sales, operations and finance.
His job was to assess the fleet and its worth. Once the deal was finalised, he moved to a newly created role: UVS and asset management director. He now manages the assets in the latter part of their working life with Ryder's operational team, and works with the customer to de-fleet at the right time without impinging on residual values.
The internal part of that remit cannot be underestimated, especially with a new website up and running (see box). "Part of my remit is to integrate the asset management review and service process across the [Ryder] network," says Martin, "and making sure we've got all the training and review processes in place and engage with the operations teams, so they understand what responsibilities they have ahead of an assets' disposal." Always adhering to quality
"Part of the roll-out of the new website is ensuring we have road-ready standards for the vehicles and that it is adhered to consistently," he explains. From a rolling stock of 24,500 assets, including 10,300 trailers and multi-marque trucks and vans on rental and lease agreements, he expects to retail between 4,000 and 4,500 assets a year, or about 375 a month. This total is split evenly between vehicles and trailers. It is a significant hike from the pre-Hill Hire days when Ryder de-fleeted about 125 vans and rigids up to 18-tonne GVVV every month. For the six-strong Ryder sales team there is a general rule
of thumb: trucks are run for five years; trailers 10; and vans four. There is micromanagement of vehicles that do higher than average mileage, which usually leads to an earlier disposal.
With so many brands, Ryder is in a unique position to work with customers and offer independent advice to find the right truck with an emphasis on quality. Martin says: "The changes I have made ensure that we are delivering the right road-ready standard to the customer." "Each asset has a 140-check point with the maintenance team and has got its whole life service history with us, and we only use OEM parts," he adds. "We have 495 approved physical premises within
an approved, independent network, we operate 30 workshops of our own and run seven authorised testing facilities." A year after the Hill Hire deal, Ryder Europe bought CV contract hire and fleet management specialist Euroway for an undisclosed sum (CM9 August 2012), which allowed Ryder to diversify its services to its customer base. •