Gone but not for otten
23rd January 2014
Page 17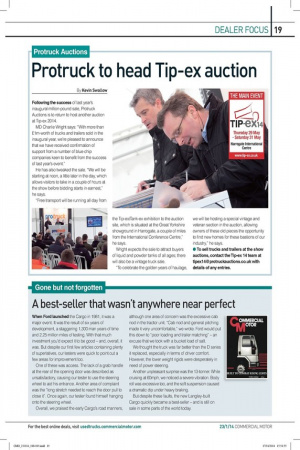 Page 17, 23rd January 2014 —
Gone but not for otten
Close
A best-seller that wasn't anywhere near perfect
When Ford launched the Cargo in 1981, it was a major event. It was the result of six years of development, a staggering 1,300 man years of time and 2.25 million miles of testing. With that much investment you'd expect it to be good — and, overall, it was. But despite our first few articles containing plenty of superlatives, our testers were quick to point out a few areas for improvement too.
One of these was access. The lack of a grab handle at the rear of the opening door was described as unsatisfactory, causing our tester to use the steering wheel to aid his entrance. Another area of complaint was the "long stretch needed to reach the door pull to close it". Once again, our tester found himself hanging onto the steering wheel. Overall, we praised the early Cargo's road manners,
although one area of concern was the excessive cab nod in the tractor unit. "Cab nod and general pitching made it very uncomfortable," we wrote. Ford would put this down to "poor loading and trailer matching" — an excuse that we took with a bucket load of salt.
We thought the truck was far better than the D series it replaced, especially in terms of driver comfort. However, the lower weight rigids were desperately in need of power steering.
Another unpleasant surprise was the 13-tonner. While cruising at 60mph, we noticed a severe vibration. Body roll was excessive too, and the soft suspension caused a dramatic dip under heavy braking.
But despite these faults, the new Langley-built Cargo quickly became a best-seller — and is still on sale in some parts of the world today.