Remembering the good times
23rd January 2014
Page 15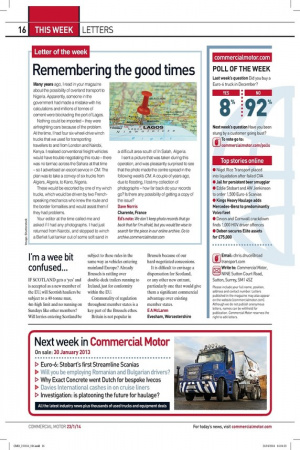 Page 15, 23rd January 2014 —
Remembering the good times
Close
Many years ago, I read in your magazine about the possibility of overland transport to Nigeria. Apparently, someone in the government had made a mistake with his calculations and millions of tonnes of cement were blockading the port of Lagos. Nothing could be imported — they were airfreighting cars because of the problem. At the time, I had four six-wheel-drive winch trucks that we used for transporting travellers to and from London and Nairobi,
Kenya. I realised conventional freight vehicles would have trouble negotiating this route — there was no tarmac across the Sahara at that time — so I advertised an escort service in CM. The plan was to take a convoy of six trucks from Algiers, Algeria, to Kano, Nigeria.
These would be escorted by one of my winch trucks, which would be driven by two Frenchspeaking mechanics who knew the route and the border formalities and would assist them if they had problems. Your editor at the time called me and asked if I had any photographs. I had just returned from Nairobi, and stopped to winch a Berliet fuel tanker out of some soft sand in
a difficult area south of In Salah, Algeria.
I sent a picture that was taken during this operation, and was pleasantly surprised to see that the photo made the centre spread in the following week's CM. A couple of years ago, due to flooding, I lost my collection of photographs — how far back do your records go? Is there any possibility of getting a copy of the issue? Dave Norris Charente, France Ed's note: We don't keep photo records that go back that far I'm afraid, but you would be wise to search for the piece in our online archive. Go to archive.commercialmotorcorn