Play your cards right
23rd January 2014
Page 13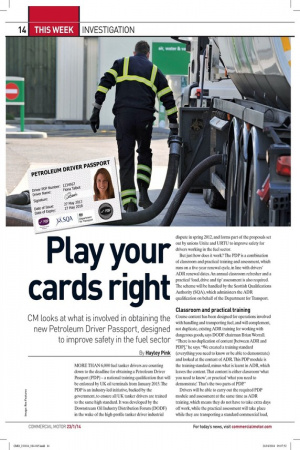 Page 14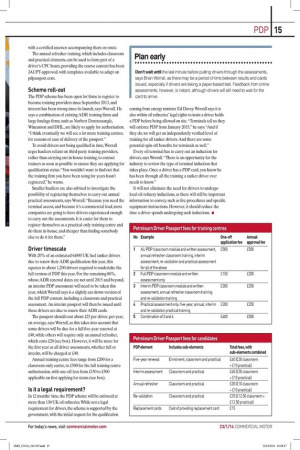 Page 13, 23rd January 2014 —
Play your cards right
Close
CM looks at what is involved in obtaining the new Petroleum Driver Passport, designed to improve safety in the fuel sector By Hayley Pink MORE THAN 6,000 fuel tanker drivers are counting down to the deadline for obtaining a Petroleum Driver Passport (PDP) — a national training qualification that will be enforced by UK oil terminals from January 2015. The PDP is an industry-led initiative, backed by the government, to ensure all UK tanker drivers are trained to the same high standard. It was developed by the Downstream Oil Industry Distribution Forum (DODF) in the wake of the high-profile tanker driver industrial
dispute in spring 2012, and forms part of the proposals set out by unions Unite and URTU to improve safety for drivers working in the fuel sector.
But just how does it work? The PDP is a combination of classroom and practical training and assessment, which runs on a five-year renewal cycle, in line with drivers' ADR renewal dates. An annual classroom refresher and a practical 'load, drive and tip' assessment is also required. The scheme will be handled by the Scottish Qualifications Authority (SQA), which administers the ADR qualification on behalf of the Department for Transport. Classroom and practical training
Course content has been designed for operations involved with handling and transporting fuel, and will complement, not duplicate, existing ADR training for working with dangerous goods, says DODF chairman Brian Won-all. "There is no duplication of content [between ADR and PDP]," he says. "We created a training standard (everything you need to know or be able to demonstrate) and looked at the content of ADR. This PDP module is the training standard, minus what is learnt in ADR, which leaves the content. That content is either classroom 'what you need to know', or practical 'what you need to demonstrate. That's the two parts of PDP." Drivers will be able to carry out the required PDP module and assessment at the same time as ADR training, which means they do not have to take extra days off work, while the practical assessment will take place while they are transporting a standard commercial load,
with a certified assessor accompanying them en route.
The annual refresher training, which includes classroom and practical elements, can be used to form part of a driver's CPC hours, providing the course content has been JAUPT-approved, with templates available to adapt on pdpassport.com. Scheme roll-out
The PDP scheme has been open for firms to register to become training providers since September 2013, and interest has been strong since its launch, says Worrall. He says a combination of existing ADR training firms and large haulage firms, such as Norbert Dentressangle, Wincanton and DIAL, are likely to apply for authorisation. "I think eventually we will see a lot more training centres, for reasons of ease of delivery of the passport."
To avoid drivers not being qualified in time, Worrall urges hauliers reliant on third-party training providers, rather than carrying out in-house training, to contact trainers as soon as possible to ensure they are applying for qualification status. "You wouldn't want to find out that the training firm you have been using for years hasn't registered," he warns.
Smaller hauliers are also advised to investigate the possibility of registering themselves to carry out annual practical assessments, says Worrall. "Because you need the terminal access, and because it's a commercial load, most companies are going to have drivers experienced enough to carry out the assessments. It is easier for them to register themselves as a practical-only training centre and do them in-house, and cheaper than finding somebody else to do it for them." Driver timescale
With 20% of an estimated 6,000 UK fuel tanker drivers due to renew their ADR qualification this year, this equates to about 1,200 drivers required to undertake the full version of PDP this year. For the remaining 80%, whose ADR renewal dates are not until 2015 and beyond, an interim PDP assessment will need to be taken this year, which Worrall says is a slightly cut-down version of the full PDP content, including a classroom and practical assessment. An interim passport will then be issued until these drivers are due to renew their ADR cards.
The passport should cost about £25 per driver, per year, on average, says Worrall, as this takes into account that some drivers will be due for a full five-year renewal at £40, while others will require only an annual refresher, which costs £20 (see box). However, it will be more for the first year as all driver assessments, whether full or interim, will be charged at £40.
Annual training centre fees range from £200 for a classroom-only centre, to £500 for the full training centre authorisation, with one-off fees from £150 to £500 applicable on first applying for status (see box).
Is it a legal requirement? In 12 months' time, the PDP scheme will be enforced at more than 130 UK oil refineries. While not a legal requirement for drivers, the scheme is supported by the government, with the initial request for the qualification
coming from energy minister Ed Davey. Worrall says it is also within oil refineries' legal rights to insist a driver holds a PDP before being allowed on site. "Terminals tell us they will enforce PDP from January 2015," he says. "And if they do, we will get an independently verified level of training for all tanker drivers. And there are some potential spin-off benefits for terminals as well."
Every oil terminal has to carry out an induction for drivers, says Worrall. "There is an opportunity for the industry to review the type of terminal induction that takes place. Once a driver has a PDP card, you know he has been through all the training a tanker driver ever needs to know." It will not eliminate the need for drivers to undergo local oil refinery inductions, as there will still be important information to convey, such as fire procedures and specific equipment instructions. However, it should reduce the time a driver spends undergoing such inductions. •
early
Don't wait until the last minute before putting drivers through the assessments, says Brian Worrall, as there may be a period of time between results and cards issued, especially if drivers are taking a paper-based test. Feedback from online assessments, however, is instant, although drivers will still need to wait for the