In like a lamb, out like a lion
23rd January 2014
Page 9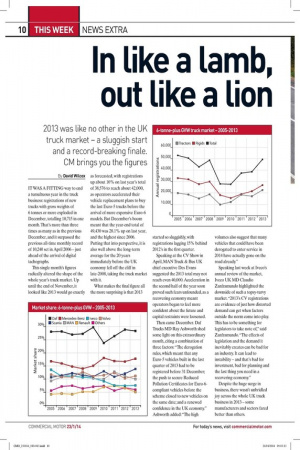 Page 10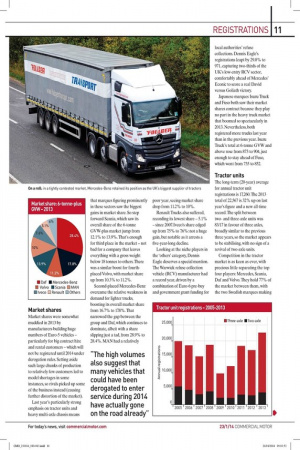 Page 11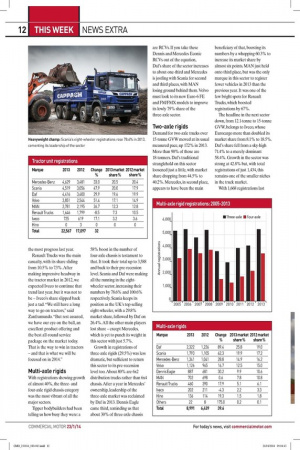 Page 12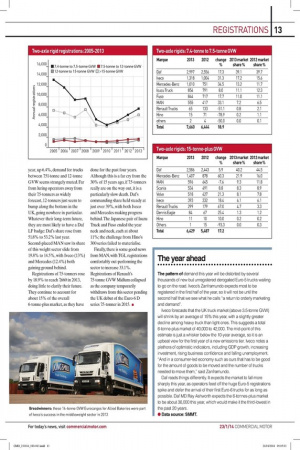 Page 9, 23rd January 2014 —
In like a lamb, out like a lion
Close
2013 was like no other in the UK truck market — a sluggish start and a record-breaking finale. CM brings you the figures By David Wilcox
IT WAS A FITTING way to end a tumultuous year in the truck business: registrations of new trucks with gross weights of 6 tonnes or more exploded in December, totalling 10,715 in one month. That's more than three times as many as in the previous December, and it surpassed the previous all-time monthly record of 10,240 set in April 2006 —just ahead of the arrival of digital tachographs. This single month's figures radically altered the shape of the whole year's truck market. Up until the end of November, it looked like 2013 would go exactly
as forecasted, with registrations up about 10% on last year's total of 38,576 to reach about 42,000, as operators accelerated their vehicle replacement plans to buy the last Euro-5 trucks before the arrival of more expensive Euro-6 models. But December's boom meant that the year-end total of 49,430 was 28.1% up on last year, and the highest since 2006. Putting that into perspective, it is also well above the long-term average for the 20 years immediately before the UK economy fell off the cliff in late-2008, taking the truck market with it. What makes the final figure all the more surprising is that 2013
started so sluggishly, with registrations lagging 15% behind 2012's in the first quarter.
Speaking at the CV Show in April, MAN Truck & Bus UK chief executive Des Evans suggested the 2013 total may not reach even 40,000. Acceleration in the second half of the year soon proved such fears unfounded, as a recovering economy meant operators began to feel more confident about the future and capital restraints were loosened. Then came December. Daf Trucks MD Ray Ashworth shed some light on this extraordinary month, citing a combination of three factors: "The derogation rules, which meant that any Euro-5 vehicles built in the last quarter of 2013 had to be registered before 31 December; the push to secure Reduced Pollution Certificates for Euro-6compliant vehicles before the scheme closed to new vehicles on the same date; and a renewed confidence in the UK economy." Ashworth added: "The high
volumes also suggest that many vehicles that could have been derogated to enter service in 2014 have actually gone on the road already."
Speaking last week at Iveco's annual review of the market, Iveco UK MD Claudio Zanframundo highlighted the downside of such a topsy-turvy market. "2013's CV registrations are evidence of just how distorted demand can get when factors outside the norm come into play. This has to be something for legislators to take note of," said Zanframundo. "The effects of legislation and the demand it inevitably creates can be bad for an industry. It can lead to instability — and that's bad for investment, bad for planning and the last thing you need in a recovering economy."
Despite the huge surge in business, there wasn't unbridled joy across the whole UK truck business in 2013 — some manufacturers and sectors fared better than others. Market shares
Market shares were somewhat muddied in 2013 by manufacturers building huge numbers of Euro-5 vehicles — particularly for big contract hire and rental customers — which will not be registered until 2014 under derogation rules. Setting aside such large chunks of production to relatively few customers led to model shortages in some instances, so rivals picked up some of the business instead (causing further distortion of the market). Last year's particularly strong emphasis on tractor units and heavy multi-axle chassis means
that marques figuring prominently in these sectors saw the biggest gains in market share. So step forward Scania, which saw its overall share of the 6-tonne GVVV-plus market jump from 12.1% to 13.9%. That's enough for third place in the market — not bad for a company that leaves everything with a gross weight below 18 tonnes to others. There was a similar boost for fourthplaced Volvo, with market share up from 10.3% to 11.2%. Second-placed Mercedes-Benz overcame the relative weakness in demand for lighter trucks, boosting its overall market share from 16.7% to 178%. That narrowed the gap between the group and Daf, which continues to dominate, albeit with a share slipping just a tad, from 28.9% to 28.4%. MAN had a relatively
poor year, seeing market share drop from 11.2% to 10%.
Renault Trucks also suffered, recording its lowest share — 5.1% — since 2007. Iveco's share edged up from 7.5% to 7.6%: not a huge gain, but notable as it arrests a five-year-long decline. Looking at the niche players in the 'others' category, Dennis Eagle deserves a special mention. The Warwick refuse collection vehicle (RCV) manufacturer had a record year, driven by a combination of Euro-6 pre-buy and government grant funding for
local authorities' refuse collections. Dennis Eagle's registrations leapt by 29.8% to 971, capturing two-thirds of the UK's low-entry RCV sector, comfortably ahead of Mercedes' Econic to score a real David versus Goliath victory.
Japanese marques Isuzu Truck and Fuso both saw their market shares contract because they play no part in the heavy truck market that boomed so spectacularly in 2013. Nevertheless, both registered more trucks last year than in the previous year. Isuzu Truck's total at 6-tonne GVVV and above rose from 873 to 904, just enough to stay ahead of Fuso, which went from 735 to 852. Tractor units
The long-term (20-year) average for annual tractor unit registrations is 17,260. The 2013 total of 22,567 is 32% up on last year's figure and a new all-time record. The split between twoand three-axle units was 83/17 in favour of three axles, broadly similar to the previous three years, so the market appears to be stabilising, with no sign of a revival of two-axle units. Competition in the tractor market is as keen as ever, with precious little separating the top four players: Mercedes, Scania, Daf and Volvo. They hold 77% of the market between them, with the two Swedish marques making
the most progress last year.
Renault Trucks was the main casualty, with its share sliding from 10.5% to 73°/.. After making impressive headway in the tractor market in 2012, we expected Iveco to continue that trend last year, but it was not to be Iveco's share slipped back just a tad. "We still have a long way to go on tractors," said Zanframundo. "But rest assured, we have our eye on the ball, an excellent product offering and the best all-round service package on the market today. That is the way to win in tractors and that is what we will be focused on in 2014." Multi-axle rigids
With registrations showing growth of almost 40%, the threeand four-axle rigid chassis category was the most vibrant of all the major sectors. Tipper bodybuilders had been telling us how busy they were: a
58% boost in the number of four-axle chassis is testament to that. It took their total up to 3,588 and back to their pre-recession level. Scania and Daf were making all the running in the eightwheeler sector, increasing their numbers by 78.6% and 100.6% respectively. Scania keeps its position as the UK's top-selling eight-wheeler, with a 29.8% market share, followed by Daf on 26.4%. All the other main players lost share except Mercedes, which is yet to punch its weight in this sector with just 5.7%. Growth in registrations of three-axle rigids (29.5%) was less dramatic, but sufficient to return this sector to its pre-recession level too. About 80% are 6x2 distribution trucks rather than 6x4 chassis. After a year in Mercedes' ownership, leadership of the three-axle market was reclaimed by Daf in 2013. Dennis Eagle came third, reminding us that about 30% of three-axle chassis are RCVs. If you take these Dennis and Mercedes Econic RCVs out of the equation, Daf's share of the sector increases to about one-third and Mercedes is jostling with Scania for second and third places, with MAN losing ground behind them. Volvo must look to its new Euro-6 FE and FM/FMX models to improve its lowly 7.9% share of the
three-axle sector. Two-axle rigids Demand for two-axle trucks over 15-tonne GVVV moved at its usual
measured pace, up 17.2% in 2013. More than 90% of those are 18-tonners. Daf's traditional stranglehold on this sector loosened just a little, with market share dropping from 44.5% to 40.2%. Mercedes, in second place, appears to have been the main beneficiary of that, boosting its numbers by a whopping 60.3% to increase its market share by almost six points. MAN just held onto third place, but was the only marque in this sector to register fewer vehicles in 2013 than the previous year. It was one of the few bright spots for Renault Trucks, which boosted
registrations by 67%. The headline in the next sector down, from 12.1-tonne to 15-tonne GVVV, belongs to Iveco, whose Eurocargo more than doubled its
market share from 8.1% to 18.5%. Daf's share fell from a sky-high 71.4% to a merely dominant 58.4%. Growth in the sector was strong at 42.8% but, with total registrations of just 1,434, this remains one of the smaller niches
in the truck market. With 1,668 registrations last year, up 6.4%, demand for trucks between 7.51-tonne and 12-tonne GVW seems strangely muted. Far from luring operators away from their 7.5-tonners as widely forecast, 12-tonners just seem to bump along the bottom in the
UK, going nowhere in particular. Whatever their long-term future, they are most likely to have a Daf LF badge: Daf's share rose from
51.8% to 53.2% last year. Second-placed MAN saw its share of this weight sector slide from 19.8% to 14.5%, with Iveco (13%) and Mercedes (12.4%) both
gaining ground behind. Registrations of 7.5-tonners rose by 18.9% to reach 7,660 in 2013,
doing little to clarify their future. They continue to account for about 15% of the overall 6-tonne-plus market, as they have
done for the past four years. Although this is a far cry from the 30% of 15 years ago, if 7.5-tonners really are on the way out, it is a particularly slow death. Daf's commanding share held steady at just over 39%, with both Iveco and Mercedes making progress behind. The Japanese pair of Isuzu Truck and Fuso ended the year neck and neck, each at about 11%; the challenge from Hino's
300 series failed to materialise. Finally, there is some good news from MAN, with TGL registrations comfortably out-performing the
sector to increase 33.1%. Registrations of Renault's 7.5-tonne GVW Midlum collapsed as the company temporarily withdraws from this sector pending the UK debut of the Euro-6 D series 7.5-tonner in 2015. •
The year ahead
The pattern of demand this year will be distorted by several thousands of new but unregistered derogated Euro-5 trucks waiting to go on the road. Iveco's Zanframundo expects most to be registered in the first half of the year, so it will not be until the second half that we see what he calls "a return to orderly marketing and demand".
Iveco forecasts that the UK truck market (above 3.5-tonne GVW) will shrink by an average of 15% this year, with a slightly greater decline among heavy truck than light ones. This suggests a total 6-tonne-plus market of 40,000 to 42,000. The mid-point of this estimate is just a whisker below the 10-year average, so it is an upbeat view for the first year of a new emissions tier. Iveco notes a plethora of optimistic indicators, including GDP growth, increasing investment, rising business confidence and falling unemployment. "And in a consumer-led economy such as ours that has to be good for the amount of goods to be moved and the number of trucks needed to move them," said Zanframundo.
Daf reads things differently. It expects the market to fall more sharply this year, as operators feed off the huge Euro-5 registrations spike and defer the arrival of their first Euro-6 trucks for as long as possible. Daf MD Ray Ashworth expects the 6-tonnes-plus market to be about 36,000 this year, which would make it the third-lowest in the past 20 years.
• Data source: SMMT.