Traffic Manager Scorns Value Short-distance Bus Travel
23rd January 1959
Page 35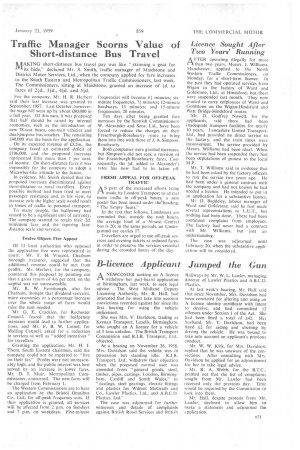 Page 35, 23rd January 1959 —
Traffic Manager Scorns Value Short-distance Bus Travel
Close
mAKING short-distance bus travel pay was like "skinning a gnat for '1its hide," declared Mr. S. Smith, traffic manager of Maidstone and District Motor Services, Ltd., when the company applied for fare increases to the South Eastern and Metropolitan Traffic Commissioners, last week, The Commissioners, sitting at Maidstone, granted an increase of • Id. to
fares of 21(1., 41d. and 5-1d.
For the company, Mr. H. R. Herbert said their last increase was granted in September, 1957. Last October, however, the wage bill went up by about £80,000 in a full year. Of this sum, it was proposed that half should be raised by internal economies, such as the introduction of new 78-seat buses, one-man vehicles and dual-purpose buslcoaches. The remaining £40,000 was the basis for the application.
On its expected revenue of £3.2m., the company faced an estimated deficit of £106,000, and the proposed increases represented little more than 1 per cent. of income. On short-distance fares it was impossible for the company to adopt a Micawber-like attitude to the future.
In evidence, Mr. Smith denied that the proposed increases discriminated against short-distance or rural travellers. Every possible method had been tried to meet passenger resistance and, in his view, to increase only the higher scale would result in losses of traffic to personal transport.
To many people, the halfpenny had ceased to be a significant unit of currency. The company wanted to retain their 2d. minimum fare and the tapering faredistance scale and services.
Twelve Object: Five Appear Of 12 local authorities who opposed the application five were represented in court. Mr. T. H. Vincent, Chatham borough treasurer, suggested that the additional revenue could be met from profits. Mr. Herbert, for the company, countered this proposal by pointing out that a gross return of 4.6 per cent, on the capital was not unreasonable.
Mr. R. W. Fernihough, also for Chatham, thought that dividend restraint, more economies or a percentage increase over the whole range of fares would raise the sum needed.
Mr. G. E. Cracklen, for Rochester Council, feared that the halfpenny increases would lead to further applications, and Mr. F. B. W. Linnet, for Mailing Council, asked for a reduction in services as well as "added incentives" for travellers.
Granting the application, Mr. H. J. Thom, South Eastern chairman, said the company could not be expected to "live on their fat," Profits were not unreasonably high, and the public interest was best served by an increase in lower fares. Mr. D. I. Muir, Metropolitan Commissioner, concurred. The new fares will be charged from February 1.
The Western Commissioners are to hear an application by the Bristol Omnibus Co., Ltd., for off-peak frequency cuts. If their application is granted, all services will be affected from 2 p.m. on Sundays and 7 p.m. on weekdays. Five-minute frequencies will become 6-1 minutes; sixminute frequencies, 71 minutes; 12-minute headways, 15 minutes; and 15-minute frequencies, 20 minutes.
Ten days after being granted fare increases by the Scottish Commissioners W. Alexander and Sons, Ltd., have been forced to reduce the charges on their Fraserburgh-Rosehearty route to bring them into line with those of J. A. Simpson, Rosehearty.
Both companies were granted increases. but Simpson's did not seek a revision of the Fraserburgh-Rosehearty fares. Consequently, the id. added to Alexander's rates has now had to be taken off.
FRESH APPEAL FOR OFF-PEAK TRAFFIC
AS part of the increased efforts being made. by London Transport to attract more traffic in off-peak hours, a new poster has been issued under theheading, "The Empty Seats."
In the text that follows, Londoners are reminded that, outside the rush hours, the average load of a 56-seat Central bus is 20: in the same periods, an Underground car carries 17.
Travellers are urged to use off-peak services and evening tickets at reduced fares, in order to preserve the services essential during the crowded hours of the day.