The Purchase Department.
23rd January 1913
Page 19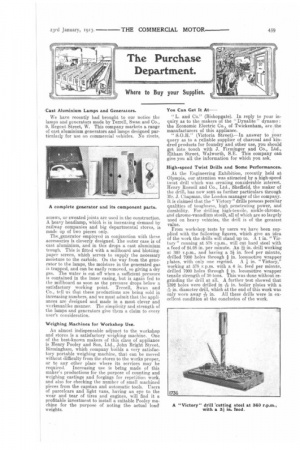 Page 19, 23rd January 1913 —
The Purchase Department.
Close
Where to Buy your Supplies.
,Cast Aluminium Lamps and Generators.
We have recently had brought to our notice the lamps and generators made by Terrell, Swan and Co., • 9, Regent Street, W. This company markets a range of cast aluminium generators and lamps designed particularly for use on commercial vehicles. No rivets,
screws, or sweated joints are used in the construction. A heavy headlamp, which is in increasing demand by railway companies and big departmental stores, is made up of two pieces only. The generator employed in conjunction with these accessories is cleverly designed. The outer case is of cast aluminium, and in this drops a cast aluminium trough. This is fitted with a millboard and blottingpaper screen, which serves to supply the necessary moisture to the carbide. On the way from the generator to the lamps, the moisture in the generated gas is trapped, and can he easily removed, so giving a dry gas. The water is cut off when a sufficient pressure is contained in the inner casing, but is again fed to the millboard as soon as the pressure drops below a satisfactory working point. Terrell, Swan and Co., tell us that these productions are being sold in increasing numbers, and we must admit that the appliances are designed and made in a most clever and workmanlike manner, The simplicity and strength of the lamps and generators give them a claim to every user's consideration.
Weighing Machines for Workshop Use.
An almost indispensable adjunct to the workshop and stores is a satisfactory weighing machine. One of the best-known makers of this class of appliance is Henry Pooley and Son, Ltd., John Bright Street, Birmingham, which company builds a very satisfactory portable weighing machine, that can be moved without difficulty from the stores to the works proper, or to any other place where its services may be required. Increasing use is being made of this maker's productions for the purpose of counting and weighing castings and forg-ings for repetition work, and also for checking the number of small machined pieces from the capstan and automatic tools. Users of parcelcars and light vans, having an eye to the wear and tear of tires and engines, will find it a profitable investment to install a suitable Pooley machine for the purpose of noting the. actual load weights. You Can Get It At- " L. and Co." (Bishopgate). In reply to your inquiry as to the makers of the " Dynalite" dynamo : the Economic Electric Co., of Twickenham, are the manufacturers of this appliance.
" 5.0.11." (Victoria Street).—In answer to your query as to a reliable supplier of charcoal and kindred products for foundry and other use, you should get into touch with J. Firrninger and Co., Ltd., Eltham Street, Walworth, &E. This company can give you all the information for which you ask,
High-speed Twist Drills and Some Performances.
At the Engineering Exhibition, recently held at Olympia, our attention was attracted by a high-speed twist drill which was creating considerable interest. Henry Rossell and Co., Ltd., Sheffield, the maker of the drill, has now sent us further particulars through Mr. J. Chapman, the London manager of the company. It is claimed that the " Victory" drills possess peculiar qualities of toughness, high penetrating power, and durability. For drilling high-tensile, nickle-chrome, and chrome-vanadium steers, all of which are so largely used on heavy vehicles, the drill is of the greatest value.
From workshop tests by users we have been supplied with the following figures, which give an idea of the work the drills will stand up to. A I in. " Victory " running at 578 r.p.m., will cut hard steel with a feed of 21.08 in. per minute, An -}-14in. drill working at 360 r.p.m., and having a 3in. feed per minute, drilled 7000 holes through in. locomotive wrapper plates, with only one regrind. A in. "Victory," working at 578 r.p.m. with a 6 in. feed per minute, drilled 7000 holes through in. locomotive wrapper tensile strength of 30 tons. This was done without regrinding the drill at all. A further test showed that 1392 holes were drilled in -Ain. boiler plates with a -h. in. diameter drill, which at the end of this work was only worn away in. All these drills were in excellent condition at the conclusion of the work.