Australasian Progress.
23rd January 1913
Page 15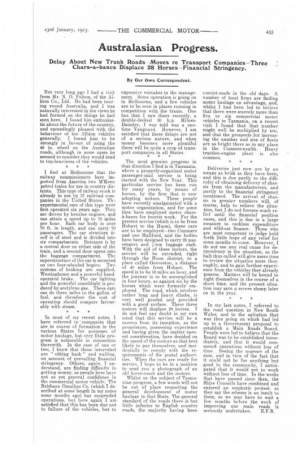 Page 15, 23rd January 1913 —
Australasian Progress.
Close
Delay About New Trunk Roads Moves re Transport Companies—Three Chars-a-bancs Displace 28 Horses -Financial Stringency.
By Our Own Correspondent.
Not very long ago I had a visit from Mr. N. 0. Fulton, of the Albion Co., Ltd. He had been touring round Australia, and I was naturally interested in the views he had formed on the things he had seen here. I found him enthusiastic about the future of the country, and exceedingly pleased with the behaviour of the Albion vehicles generally. I found him to be strongly in favour of using the 40 in. wheel on the Australian roads, although in some cases he seemed to consider they would tend to top-heaviness of the vehicles.
I find at Melbourne that the railway commissioners have imported from America two Wlieen petrol trains for use in country districts. This type of railway stock is already in use by 37 railroad companies in the United States. Th.! experimental cars of this type were first operated six years ago. They are driven by benzine engines, and can attain a speed up to 70 miles per hour. Each ear body is over 70 ft. in length, and can carry 70 passengers. The car structure itself is of steel and is divided into SIX compartments. Entrance is by a central door on either side of the train, and a second door opens into the baggage compartment. The superstructure of the car is mounted on two four-wheeled bogies. Two systems of braking are supplied. Westinghouse and a powerful handoperated brake. The car lighting and the powerful searchlight is produced by acetylene gas. These cars can do three miles to the gallon of fuel, and therefore the cost of operating should compare favourably with steam.
In most of my recent notes. I have referred to companies that are in course of formation in the various States for purposes of motor haulage, but very little progress is noticeable in connection therewith. In the case of one or two, I know thai, those interested are " sitting back" and waiting, on account of prevailing financial stringency. Others, again, T understand, are finding difficulty in getting money, as people here have not as yet general confidence in the commercial motor vehicle. The Brisbane Omnibus Co. (which I described at some length in my notes some months ago) has suspended operations. but here again I am satisfied that this has been due not to failure of the vehicles, but to expensive mistakes in the management. Some operation is going on in Melbourne, and a few vehicles are to be seen in places running in competition with the trams. One bus that I saw there recently, a double-decked 30 h.p.
Daimler, I was told was a onetime Vanguard. However, I am satisfied that these delays are not of a serious nature, and when money becomes more plentiful there will be quite a crop of trans port companies in all States.
The most genuine progress in that direction I find is in Tasmania,
where a properly-organized motor passenger-mail service is being started with the New Year. This particular service has been run for many years, by means of horses, by the firm that is now adopting motors. These people have recently amalgamated with a motor organization, and for some time have employed motor charsit-bancs for tourist work. For the present service (which is to be from Hobart to the Huon), three cars are to be employed—two Commers and one Hallford, and the bodies have been designed to carry 25 passengers and .-ton luggage each. With the aid of these motors, the service will be extended, right through the Huon district, to a place called Geeveston, a distance of 40 miles from Hobart. The speed is to be 10 miles an hour, and the journey is to be accomplished in four hours, as against six by the horses which were formerly employed. The road, which involves rather long and heavy climbs, is very well graded and provided with a good surface. These three motors will displace 28 horses. I do not feel any doubt in my own mind that this service will be a success from its inoeption, as the proprietors, possessing experience and having given the matter earnest consideration, have decided on the speed of the motors as that best likely to pay themselves, and incidentally to comply with the requirements of the postal authorities. When the cars are ready for service. I hope to be in a Position to send you a photograph of an old horse-coach and the motors.
Whilst on the subject of Tasmanian progress, a few words will not be out of place respecting the general develonment of motor haulage in that State. The general standard of the•roade there is but little inferior to English country roads, the majority having been
convict-made in the old days. A number of local firms are finding motor haulage an advantage, and, whilst I had been led to believe that there were scarcely more than five or six commercial motor vehicles in Tasmania, on a recent visit I found that that number might well be multiplied by ten, and that the prospects for increasing the number and size of fleets are as bright there as in any place in the Commonwealth. Heavy traction-engine plant is also common.
Deliveries just now are by no means as brisk as they have been, and this is due partly to the difficulty of obtaining delivery of chassis from the manufacturers, and partly to the financial stringency mentioned. The arrival of chassis in greater numbers will, of course, help to relieve the situation, but I do not foresee much relief until the financial position eases, and this is due in a large measure to reckless expenditure and wild-eat finance. Those who are most competent to judge hold forth little hope of any relief for some months to come. However, I do not see any real cause for despondency in the situation, as the halt thus called will give users time to review the situation more thoroughly, and to gain further experience from the vehicles they already possess. Matters will be bound to right themselves in the course of short time, and the present situation may save a severe slump later on in the year.
In my last notes, I referred to the road question in New South Wales, and to the agitation that was then going on which had led up to a Government proposal to establish a Main Roads Board. People were led to believe that the Board was to be established immediately, and that it would commenet operations without loss of time. Seeing the urgency of the case, and in view of the fact that it could not be for anything but good to the community, I anticipated that it would get to work without loss of time. In the weeks that have passed since then. the Shire Councils have combined and entered an emphatic protest, as they say the scheme is an insult to them, so we may have to wait a few months before the work of improving our main roads is seriously undertaken. E.F.B.