News and Comment.
23rd January 1913
Page 10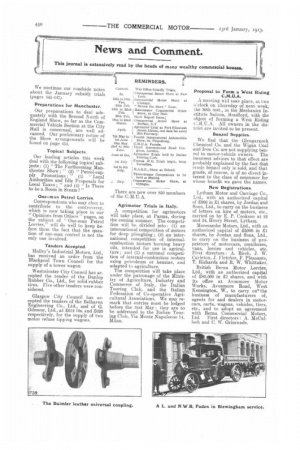 Page 11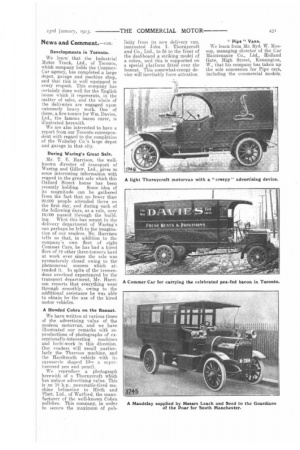 Page 12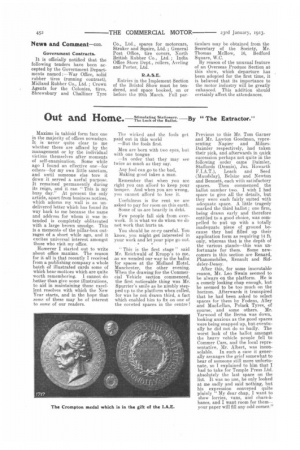 Page 10, 23rd January 1913 —
News and Comment.
Close
This journal is extensively read by the heads of many wealthy commercial horses.
We continue our roadside notes about the January subsidy trials (pages 445-447).
Preparations for Manchester.
Our preparations to deal adequately with the Second North of England Show, so far as the Commercial Vehicle Section at the City Hall is concerned, are well advanced. Our preliminary notice of the Show airangements will be found on page 453.
Topical Subjects.
Our leading articles this week deal with the following topical subjects: (1) " The Forthcoming Manchester Show ; " (2) " Petrol-supply Promotions:). " (:3) " Local Authorities and Idle Proposals for Local Taxes ; " and (4) " Is There to be a. Boom in Steam 1" One-man Petrol Lorries.
Correspondents who may elect. to contribute to the controversy, which is now taking place in our " Opinions from Others " pages, on the subject of "One-man Petrol Lorries," will do well to keep before them the fact that the question of one-man confer)] is not, the only one involved.
Tenders Accepted.
HaIley's Industrial Motors, Ltd., has received an order from the Blackpool Town Council for the supply of a tower wagon.
Westminster City Council has accepted the tender of the Dunlop Rubber Co., Ltd., for solid-rubber tires. Five other tenders were considered.
Glasgow City Council has accepted the tenders of the Belhaven Engineering Co., Ltd., and of G. Gilmour, Ltd., at £612 10s. and 1620 respectively, for the supply of two motor refuse tipping wagons. Agrimotor Trials in Italy.
A competition for agrimotors will take place, at Parma, during the coming summer. The competition will be divided into : (1) an international competition of motors for deep ploughing ; (2) an international competition of internalcombustion motors burning heavy oils, intended for use in agriculture ; and (3) a national competition of internal-combustion motors using petroleum or benzine, and adapted to agriculture.
The competition will take place under the patronage of the Ministry of Agriculture, Industry and Commerce of Italy, the Italian Touring Club, and the Italian Federation of Co-operative Agricultural Associations. We may remark that entries must be lodged before the 31st May ; they are to be addressed to the Italian Touring Club. Via Monte Napoleone 14, Milan. Proposal to Form a West Riding C.M.U.A.
A meeting will take place, at two o'clock on Thursday of next week, che 30th inst., in the Mechanics Institute Saloon, Bradford, with the object of forming a West Riding t2.4.U.A. All owners in the district are invited to be present.
Benzol Supplies.
We find that the Glengarnock Chemical Co. and the Wigan Coal and Iron Co. are not supplying benzol to motor-vehicle owners. The incorrect. advices to that effect are probably explained by the fact that crude benzol only is sold, and that grade, of course, is of no direct interest to the class of consumer for whose benefit we gave the names.
New Registrations.
Lytham Motor and Carriage Co., Ltd., with an authorized capital of £600 in El shares, by Jordan and Sons, Ltd., to carry on the business of letters on hire of motors, etc., carried on by E. P. Cookson at 22 and 24, Henry Street, Lytham.
Morecambe Motors, Ltd., with an authorized capital of 0000. in 21 shares, by Jordan and Sons, Ltd., to carry on the business of proprietors of motorcars, omnibuses, vans, lorries and vehicles,. etc. First directors: • A. Birch, J. W. Carleton, J. Fletcher, F. Pleasants, T. .Richards and R. W. Whittaker.
British Berna Motor Lorries, Ltd., with an authorized capital of 280,000 in El shares, and with its office at Avon more Motor Works, .Avonmore Road, West Kensington, W., to carry on` the business of manufacturers of, agents for and dealers in motorcars, carts, wagons, vehicles, tires, etc., and to adopt an agreement with Berna Commercial Motors, Ltd. First directors : A. McCulloch and C. W. Grimwade.
Developments in Toronto.
We learnthat the Industrial Motor Truck, Ltd., of Toronto, which company holds the CommerCar agency, has completed a large depot, garage and machine shop, and that this is well equipped in every respect. This company has certainly done well for the English house which it represents, in the matter of sales, and the whole of the deliveries are engaged upon extremely heavy work. One of hese, a five-tonner for Wm. Davies, Ltd., the famous bacon curer, is illustrated herewith.
We are also interested to have a report from our Toronto correspondent wilh regard to the completion of the Wolseley Co.'s large depot and garage in that city.
During Waring's Great Sale.
Mr. T. E. Harrison, the wellknown director of transport of Waring and Gillow, Ltd., gives us some interesting information with regard to the great sale which this Oxford Street house has been recently holding. Some idea of its magnitude can be gathered from the fact that no fewer than 20,000 people attended there on the first day, and during each of the following days, as a rule, over 16,000 passed through the building. What this has meant to the delivery department of 'Waring's can perhaps be left to the imagination of our readers. Mr. Harrison tells us that, in addition to the company's own fleet of eight Commer Cars, he has had a hired fleet of itt other three-tonners hard at work ever since the sale was prematurely closed owing to the phenomenal success which attended it. In spite of the tremendous overload experienced by the transport department, Mr. Harrison reports that everything went through smoothly, owing to the additional assistance he was able to obtain by the use of the hired motor vehicles.
A Hooded Cobra on the Bonnet.
We have written at various times of the advertising value of the modern motorvan, and we have illustrated our remarks with reproductions of photographs of exceptionally-interesting machines and bode-work in this direction. Our readers will recall pa.rtienlarly the Thermos machine, and the Hardtmuth vehicle with its earosserie shaped lik a superimposed pen and pencil.
We reprodueP a photograph herewith of a Thornycroft which has unique advertising value. This is an 18 h.p., pneumatic-tired machine belonging to Blvth and Platt, Ltd.. of 'Watford, the manufacturer of the well-known Cobra polishes. This company, in order to secure the maximum of pub licity from its new delivery van, instructed John I. Thornycroft and Co., Ltd., to fit to the front of the dashboard a striking model of a cobra, and this is supported on a special platform fittedover the bonnet. This somewhat-creepy device will inevitably force attention. " Pipe " Vans.
We learn from Mr. Syd. W. Mossop, managing director of the Car Maintenance Co., Ltd., Holland Gate, High Street, Kensington, W., that his company has taken up the sole concession for Pipe cars, including the commercial models. Government Contracts.
It is officially notified that the following tenders have been accepted by the Government Departments named :—War Office, solid rubber tires (running contract), Midland Rubber Co., Ltd. ; Crown Agents for the Colonies, tires, Shrewsbury and Challiner Tyre Co., Ltd., spares for motorcars, Straker and Squire, Ltd. ; General Post Office, tire covers, North British Rubber Co., Ltd. ; India Office Store Dept., rollers, Aveling and Porter, Ltd.
R.A.S.
Entries in the Implement Section of the Bristol Show must be tendered, and space booked, on or before the 20th March. Full par
ticulars may be obtained from the Secretary of the Society, Mr. Thomas McRow, 16, Bedford Square, W.C.
By reason of the unusual feature of an Overseas Produce Section at this show, which departure has been adopted for the first time, it is believed that its importance to the motor industry will be greatly enhanced. This addition should certainly affect the attendances.