Q Do regulations affecting drivers' hours
23rd February 1968
Page 63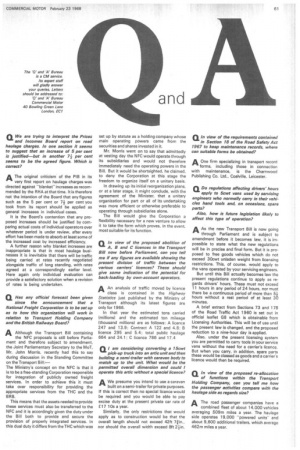 Page 63, 23rd February 1968 —
Q Do regulations affecting drivers' hours
Close
apply to 5cwt vans used by servicing engineers who normally carry in their vehicles hand tools and, on occasions, spare parts?
Also, how is future legislation likely to affect this type of operation?
AAs the new Transport Bill is now going
through Parliament and is subject to amendment before it becomes law, it is impossible to state what the new regulations will be in precise and final form. But it is proposed to free goods vehicles which do not exceed 30cwt unladen weight from licensing restrictions. This, of course, would apply to the vans operated by your servicing engineers.
But until this Bill actually becomes law the present regulations continue to apply as regards drivers' hours. These must not exceed 11 hours in any period of 24 hours, nor must there be a continuous period of more than 5+ hours without a rest period of at least 30 minutes.
A brief extract from Sections 73 and 178 of the Road Traffic Act 1960 is set out in official leaflet GB which is obtainable from Licensing Authorities. This will be of use until the present law is changed, and the proposed reduction to a nine-hour day is applied.
Also, under the present licensing system you are permitted to carry tools in your service vans without the need for a carrier's licence. But when you carry, in addition, spare parts these would be classed as goods and a carrier's licence would then be required.