Fordspacious
23rd February 1968
Page 39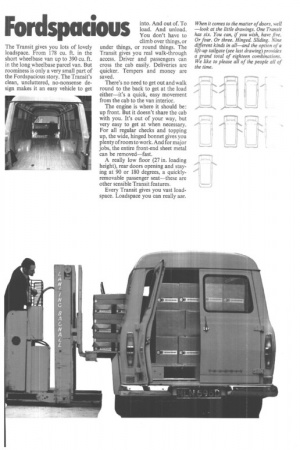 Page 39, 23rd February 1968 —
Fordspacious
Close
The Transit gives you lots of lovely loadspace. From 178 Cu. ft. in the short wheelbase van up to 390 cu. ft. in the long wheelbase parcel van. But roominess is only a very small part of the Fordspacious story. The Transit's clean, uncluttered, no-nonsense design makes it an easy vehicle to get into. And out of. To load. And unload. You don't have to climb over things, or under things, or round things. The Transit gives you real walk-through access. Driver and passengers can cross the cab easily. Deliveries are quicker. Tempers and money are saved.
There's no need to get out and walk round to the back to get at the load either—it's a quick, easy movement from the cab to the van interior.
The engine is where it should be: up front. But it doesn't share the cab with you. It's out of your way, but very easy to get at when necessary. For all regular checks and topping up, the wide, hinged bonnet gives you plenty of room to work. And for major jobs, the entire front-end sheet metal can be removed—fast.
A really low floor (27 in. loading height), rear doors opening and staying at 90 or 180 degrees, a quicklyremovable passenger seat—these are other sensible Transit features.
Every Transit gives you vast loadspace. Loadspace you can really use. When it comes to the matter of doors, well —look at the little drawings. One Transit has six. You can, if you wish, have five. Or four. Or three. Hinged. Sliding. Nine different kinds in all—and the option of a lift-up tailgate (see last drawing) provides a grand total of eighteen combinations. We like to please all of the people all of the time.