Ford
23rd February 1968
Page 37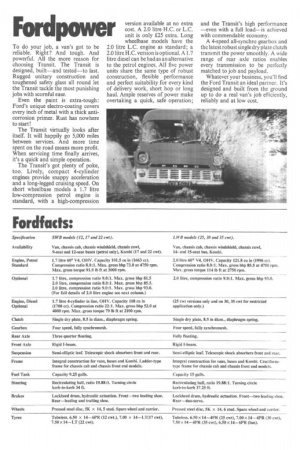 Page 37, 23rd February 1968 —
Ford
Close
To do your job, a van's got to be reliable. Right? And tough. And powerful. All the more reason for choosing Transit. The Transit is designed, built-and tested to last. Rugged unitary construction and toughened safety glass all round let the Transit tackle the most punishing jobs with scornful ease.
Even the paint is extra-tough: Ford's unique electro-coating covers every inch of metal with a thick anticorrosion primer. Rust has nowhere to start!
The Transit virtually looks after itself. It will happily go 5,000 miles between services. And more time spent on the road means more profit. When servicing time finally arrives, it's a quick and simple operation.
The Transit's got plenty of poke, too. Lively, compact 4-cylinder engines provide snappy acceleration and a long-legged cruising speed. On short wheelbase models a 1.7 litre low-compression petrol engine is standard, with a high-compression version available at no extra cost. A 2.0 litre H.C. or L.C. unit is only £25 extra. Long wheelbase models have the 2.0 litre L.C. engine as standard; a 2.0 litre H.C. version is optional. A 1.7 litre diesel can be had as an alternative to the petrol engines. All five power units share the same type of robust construction, flexible performance and perfect suitability for every kind of delivery work, short hop or long haul. Ample reserves of power make overtaking a quick, safe operation; and the Transit's high performance -even with a full load-is achieved with commendable economy.
A 4-speed all-synchro gearbox and the latest robust single dry plate clutch transmit the power smoothly. A wide range of rear axle ratios enables every transmission to be perfectly matched to job and payload.
Whatever your business, you'll find the Ford Transit an ideal partner. It's designed and built from the ground up to do a real van's job efficiently, reliably and at low cost.