Unions may reject pay formula
23rd February 1968
Page 22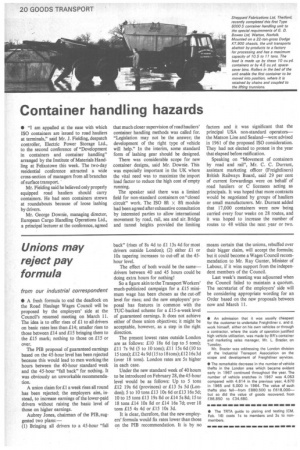 Page 22, 23rd February 1968 —
Unions may reject pay formula
Close
from our industrial correspondent
• A fresh formula to end the deadlock on the Road Haulage Wages Council will be proposed by the employers' side at the Council's resumed meeting on March 11. The idea is to offer rises of £1 to all drivers on basic rates less than £14; smaller rises to those between £14 and £15 bringing them to the £15 mark; nothing to those on £15 or over.
The PIB proposal of guaranteed earnings based on the 45-hour level has been rejected because this would lead to men working the hours between the 40-hour standard week and the 45-hour "fall back" for nothing. It was obviously an unworkable recommendation.
A union claim for £1 a week rises all round has been rejected; the employers aim, instead, to increase earnings of the lower-paid drivers without raising the basic level of those on higher earnings.
Aubrey Jones, chairman of the PIB, suggested two plans: — (1) Bringing all drivers to a 45-hour "fall
back" (rises of 8s 4d to £1 13s 4d for most drivers outside London); (2) either £1 or lOs tapering increases to cut-off at the 45hour level.
The effect of both would be the same— drivers between 40 and 45 hours could be doing extra hours for nothing!
So a figure akin to the Transport Workers' much-publicized campaign for a £15 minimum wage has been chosen as the cut-off level for rises; and the new employers' proposal has features in common with the TUC-backed scheme for a £15-a-week level of guaranteed earnings. It does not achieve either of these union objectives; it might be acceptable, however, as a step in the right direction.
The present lowest rates outside London are as follows: £10 18s 6d (up to 5 tons); £11 7s 9d (5 to 10 tons); £11 15s 6d (10 to 15 tons); £12 4s 9d(15to18 tons);£1216s 3d (over 18 tons). London rates are 5s higher in each case.
Under the new standard week of 40 hours to be introduced on February 28, the 45-hour level would be as follows: Up to 5 tons
£12 19s 6d (provinces) or £13 5s 5d (London); 5 to 10 tons £13 lOs 6d or£13 16s 5d; 10 to 15 tons £13 19s 8d or £14 5s 8d; 15 to 18 tons £14 lOs 8d or £14 16s 7d; over 18 tons £15 4s 4d or £15 lOs 3d.
It is clear, therefore, that the new employers' formula would fix rates lower than those on the PIB recommendation. It is by no
means certain that the unions, rebuffed over their bigger claim, will accept the formula; but it could become a Wages Council recommendation to Mr. Ray Gunter, Minister of Labour, if it wins support from the independent members of the Council.
Last week's meeting was adjourned when the Council failed to maintain a quorum. The secretariat of the employers' side will be considering appropriate wording for an Order based on the new proposals between now and March 11.