Container handling hazards
23rd February 1968
Page 22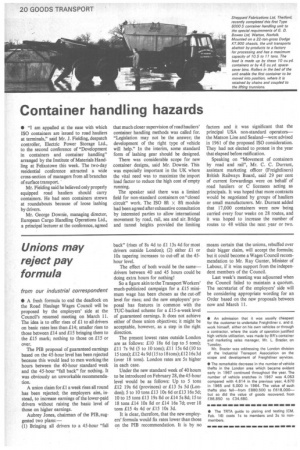 Page 22, 23rd February 1968 —
Container handling hazards
Close
• "I am appalled at the ease with which ISO containers are issued to road hauliers at terminals," said Mr. J. Fielding, despatch controller, Electric Power Storage Ltd., to the second conference of "Development in containers and container handling" arranged by the Institute of Materials Handling at Felixstowe this week. The two-day residential conference attracted a wide cross-section of managers from all branches of surface transport. '
Mr. Fielding said he believed only properly equipped road hauliers should carry containers. He had seen containers strewn at roundabouts because of loose lashing by drivers.
Mr. George Downie, managing director, European Cargo Handling Operations Ltd., a principal lecturer at the conference, agreed that much closer supervision of road hauliers' container handling methods was called for. "Legislation may not be the answer; the development of the right type of vehicle will help." In the interim, some standard form of lashing gear should be designed.
There was considerable scope for new container designs, said Mr. Downie. This was especially important in the UK where the vital need was to maximize the import load factor to reduce the high cost of empty running.
The speaker said there was a limited field for non-standard containers on "closed circuit" work. The ISO 8ft X 8ft module had been agreed after exhaustive consultation by interested parties to allow international movement by road, rail, sea and air. Bridge and tunnel heights provided the limiting factors and it was significant that the principal USA non-standard operators— the Matson Line and Sealand—were advised in 1961 of the proposed ISO consideration. They had not elected to protest in the year that elapsed before ratification.
Speaking on "Movement of containers by road and rail", Mr. C. C. Durrant, assistant marketing officer (Freightliners) British Railways Board, said 29 per cent of current forwardings were on behalf of road hauliers or C licensees acting as principals. It was hoped that more contracts would be negotiated by groups of hauliers or small manufacturers. Mr. Durrant added that 17,000 containers were now being carried every four weeks on 28 routes, and it was hoped to increase the number of routes to 48 within the next year or two.