• Action this day
23rd February 1968
Page 19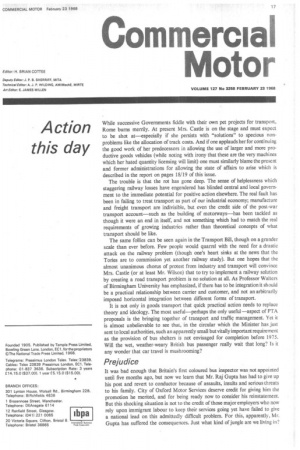 Page 19, 23rd February 1968 —
• Action this day
Close
While successive Governments fiddle with their own pet projects for transport, Rome burns merrily. At present Mrs. Castle is on the stage and must expect to be shot at—especially if she persists with "solutions" to specious nonproblems like the allocation of track costs. And if one applauds her for continuing the good work of her predecessors in allowing the use of larger and more productive goods vehicles (while noting with irony that these are the very machines which her hated quantity licensing will limit) one must similarly blame the present and former administrations for allowing the state of affairs to arise which is described in the report on pages 18/19 of this issue.
The trouble is that the rot has gone deep. The sense of helplessness which staggering railway losses have engendered has blinded central and local government to the immediate potential for positive action elsewhere. The real fault has been in failing to treat transport as part of our industrial economy; manufacture and freight transport are indivisible, but even the credit side of the post-war transport account—such as the building of motorways—has been tackled as though it were an end in itself, and not something which had to match the real requirements of growing industries rather than theoretical concepts of what transport should be like.
The same follies can be seen again in the Transport Bill, though on a grander scale than ever before. Few people would quarrel with the need for a drastic attack on the railway problem (though one's heart sinks at the news that the Tories are to commission yet another railway study). But one hopes that the almost unanimous chorus of protest from industry and transport will convince Mrs. Castle (or at least Mr. Wilson) that to try to implement a railway solution by creating a road transport problem is no solution at all. As Professor Walters of Birmingham University has emphasized, if there has to be integration it should be a practical relationship between carrier and customer, and not an arbitrarily imposed horizontal integration between different forms of transport.
It is not only in goods transport that quick practical action needs to replace theory and ideology. The most useful—perhaps the only useful —aspect of PTA proposals is the bringing together of transport and traffic management. Yet it is almost unbelievable to see that, in the circular which the Minister has just sent to local authorities, such an apparently small but vitally important requirement as the provision of bus shelters is not envisaged for completion before 1975. Will the wet, weather-weary British bus passenger really wait that long? Is it any wonder that car travel is mushrooming?
Prejudice
It was bad enough that Britain's first coloured bus inspector was not appointed until five months ago, but now we learn that Mr. Raj Gupta has had to give up his post and revert to conductor because of assaults, insults and serious threats to his family. City of Oxford Motor Services deserve credit for giving him the promotion he merited, and for being ready now to consider his reinstatement. But this shocking situation is not to the credit of those major employers who now rely upon immigrant labour to keep their services going yet have failed to give a national lead on this admittedly difficult problem. For this, apparently, Mr. Gupta has suffered the consequences. Just what kind of jungle are we living in?