Commers Pull their Weight
23rd February 1945
Page 34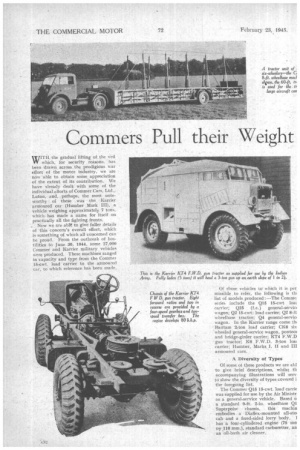 Page 35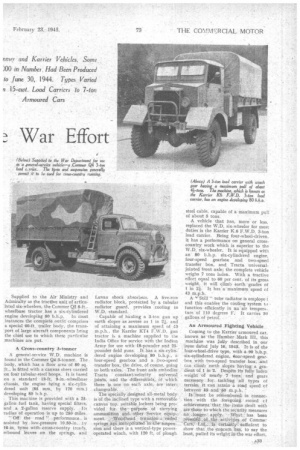 Page 34, 23rd February 1945 —
Commers Pull their Weight
Close
wirer and Karrier Vehicles, Some -..00 in Number. Had Been Produced to June 30, 1944. Types Varied o I5-cwt. Load Carriers to 7-top
Armoured Cars
WITH, tire gradual lifting of the veil W which, for security reasons, has been drawn across, the prodigious war effort of the motor industry, we are now 'able to obtain some appreciation of the extent of its contribution. We have already dealt with some of the individual 4forts of Commer Cars, Ltd., Luton, and, perhaps, the most noteworthy • of these . was the, Karrier armoured car • (Humber Mark HI), a vehicle weighing approximately 7 tons, whichhas made a name for itself on practically all the fighting fronts. ,. Now we are able to give fuller details of 'this concern's overall effort, which is something of which all concerned can be proud: From the outbreak of hostilities to June 30, 1944, some 27,000 Commer and Karrier military vehicles were produced. These machines ranged in capacity and type from the Commer 15-cwt. load carrier to the armoured car, to which reference has been made.
Of those vehicles to' which it is per. missible , to refer, the following is an list of models produced :—The Comme series include the Q15 15-cwt loac. carrier; Q25 (Lc.) general-servici wagon; Q2 15-cwt: load carrier; Q2 8-ft wheelbase tractor; Q4 general-serviel wagon. In the Karrier range come th. Bantam 2,ton load carrier; CK6 six wheeled general-service wagon, pontoof and bridge-girder carrier; KT4 F.W.D f..
gtin tractor; K6 F.W.D. 3-ton low carrier; Humber, Marks I, II and III armoured cars.
A Diversity of Types.
Of some of these products we are ab.1 to give brief descriptions, whilst th accompanying illustrations will serv to show the diversity of types covered i the foregoing list.
The Commer Q15 15-cwt. load carrie was suppliedfor use by the Air Ministr as a general-service vehicle. Based o a standard 9-ft. 2-in. wheelbase Q1 Superpoise chassis, this machin embodies a Diaffex-mounted all-ste< cab and a fixed-sided lorry body. has a four-cylindered engine (75 mrr ny,110 mm.), standard carburetter, an an oil-bath air cleaner. Supplied to the Air Ministry and Admiralty as the tractive unit of articulated six-wheelers, the Commer Q2 8-ft.wheelbase tractor has a six-cylindered engine developing 80 b.h.p. In most instances the complete outfit comprises a special 60-it, trailer body, the transport of large aircraft components being the chief use to which these particular machines are put.
A Cross-country 3-tonner
A general-service W.D. machine is found in the Commer Q4 3-tonner. The body, which has a floor area of 80 sq. ft., is fitted with a canvas sheet carried on four tubular-steel hoops. It is based on a standard -13-ft. 9-in.-wheelbase chassis, the engine being a six-cylindered unit (85 mrn_ by 120 mm.) developing 80 b.h.p.
. This machine is provided with a 25gallon fuel tank, having special filters, and a 2-gallon reserve supply. Its radius of operation is up to 250 miles.
• ' Off, the road " ,performance.., is assisted by low-pressure 10,50,in.. ty -16-in. tyres .withcross-country treads, rebound leaves on the springs, and
Luvax shock absorbers. A five-row radiator block, protected by a tubular radiator guard, provides cooling to W.D. standard.
Capable of hauling a 3-ton gun up earth slopes as .severe as 1 in 21, and of attaining a maximum speed, of 43 m.p.h., the Karrier KT4 F.W.D. gun tractor is a machine supplied to the India Office for service with the Indian Army for use with-18-pounder and 25pounder field guns. It has a six-cylin: dared engine developing 80 b.h.p., a four-speed gearbox and a ,two-speed transfer box, the drive, of course, going to both axles. The front axle embodies Tracta c onstan t-velocity universal joints, and the differentials, of which there is one on each axle, are interchangeable.
The specially designed all-metal body is of the inclined type with a removable canvas top. suitable lockers being provided for the purpose of carrying ammunition and, other Service equip
ment. Wooclhead trunnion ended springs ,are incorpcfratod'in the suspen sion and there is a vertical-type poweroperated winch, with 120 ft, of plough steel cable, capable of a maximum pull of about 5 tons.
A vehicle that has, more or less, replaced the W.D. six-wheeler for most duties is the Karrier K.6 F.W.D. 3-ton load carrier. Being four-wheel-driven. it has a performance on general crosscountry work which is superior to the W.D. six-wheeler. It is equipped with an 80 b.h.p. six-cylindered engine, four-speed gearbox and two-speed transfer box, and Tracta universaljointed front axle; the complete vehicle weighs 7 tons laden. With a tractive effort equal to 60 per cent, of its gross weight, it will climb earth grades of 1 in 24. It has a maximum speed of 43 m.p.h.
A '" Still" tube radiator is employe I and this enables the cooling system to function efficiently in an -air tempera tare of 110 degrees F. It carries 80 gallons of petrol.
An Armoured Fighting Vehicle
Coming to the Karrier armoured car, known as the Humber Mark III, this machine was uUy described in our issue dated July 16, 1943. It is of the four-wheel-drive type, with a 90 b.h.p. six-cylindered. engine, 4our-speed gearbox with two-speed transfer box, and can climb earth slopes having a gradient of 1 in 2. Despite its fully laden weight of nearly 7 tons, and gears necessary for, tackling all types of terrain., it can attain a road speed of between 45 and 50 m.p.h. '
It must be rnrnenaberecl in connection with the foregoing record cf achievement that the items dealt with are those to which the security measures no -longer apply. What has been reinarKti of. the ,activities of Cornmer -Ltd., is certainly' sufficient to show -that the concern has, to say the least, pulled its weight in-the war effort.