Hats Off to. the A.T.S.
23rd February 1945
Page 24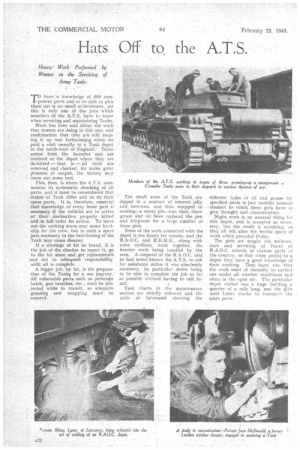 Page 24, 23rd February 1945 —
Hats Off to. the A.T.S.
Close
HeavyWork Performed by Women in the Servicing of Army Tanks
'TO have a knowledge of 500 Com
ponent parts and to he able to pick them out is no small achievement, yet this is only one of the jobs which members of the A.T.S. have-to know when servicing and maintaining Tanks. Much has been said. about the work. that women are doing in this war, and confirmation that they are .still keeping it up was forthcoming when we paid a visit. recently. to a Tank depot in. the north-west of England. Tanks arrive from the factories and are received at the depot where they are de-.kitted — that is — all tools. are removed and checked, for under great pressure of output, the factory may leave out some tool.
This, then, is where the A.T.S. commences its systematic checking of all parts, and it must be remembered that makes. of Tank differ and so do -their spare parts. It is, therefore, essential that knowledge of every loose part is necessary if the vehicles are to arrive at their destination properly kittecl and in lull order for action. To leave out the cooking stove may mean hardship for the crew, but to omit a spare part necessary to the functioning of the . Tank may mean disaster.
If a shortage of kit be found, it is the job of the checker to report it, go to the kit store and get replacements and not to relinquish responsibility until all is complete A bigger job, by far, is the preparation of the Tank for a sea journey.
• All vulnerable parts such as periscope hatch, gun breeches, etc.., most be protected while in transit, so adequate greasing and wrapping must be ensured.
' The small arms of the Tank are dipped in a mixture of mineraljelly and bees-wax, and then wrapped in sacking—a .messy job—but, then, black grease a"nd oil have replaced the pen and telephone for a large number of these girls.
Some of the work connected with the depot is too heavy for women, and the R.A.O.C. and R.E.M.E., along with some civilians, work together, the heavier work being handled by the nien. A corporal of the R.A.O.C. said he had never, known the A.T.S. to ask for assistance unless it was' absolutely necessary, its particular desire being to be able to complete the jab as far as possible without having to call for aid.
Task charts in the maintenance section are strictly followed and the table of luhricantg showing the .different types of oil and grease for specified parts is just another Unusual channel to which these girls have to give thought and. concentration, Night work is no unusual thing for this depot, and is accepted as necessary, bet the result is satisfying, as • they all felt, alter the terrific spate of work which preceded D-day.
The 'girls are taught the maintenance and servicing of Tanks at .R.A.O.C. Schools in various parts of the country, so that when posted to a depot they have a good knowledge of their working. They learn, too, that the work mast of necessity be carried out under all weather conditions and often in the open air. The particular depot visited was a huge .building quarter of a mile long, and the girls used Lister trucks to transport the spare parts.