One Hears
23rd February 1945
Page 17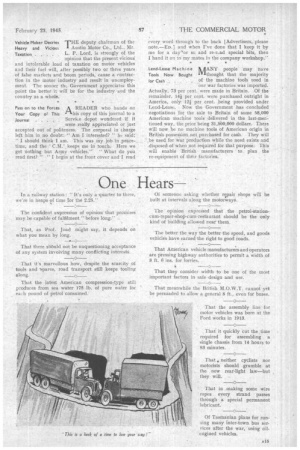 Page 17, 23rd February 1945 —
One Hears
Close
In a railway station: "Its only a quarter to three, • we're in heaps of time tor the 2.25."
The confident expression of opinion that proMises may be capable of fulfilment `.` before long...
That, as -Prof. Joad might say, it depends on what you Mean by long.
That there shbuld not be unquestioning.acceptance of any system involving many conflicting interests.
That it's marvellous how,. despite the scarcity of tools and Npares, road transport still keeps tooling along.
That the latest American compressionftype still produces from sea water 175 lb. of pure water for each pound of petrol consumed.
Of someone asking whether repair shops will be built at intervals along the motorway.
The opinion expressed that the petrol-stationcum-repair-shop-cum-restaurant should be the only kind of building allowed near them.
The better the way the better the speed, and goods vehicles have earned the right to good roads.
—'-0 That American vehicle manufacturers and operators are pressing highway authorities to permit a width of 8 ft. 6 ins, for lorries.
That they consider width to he one of the most
important factors in safe design and use.
That meanwhile the British M.O.W ,T. cannot yet be persuaded to allow a general 8 ft., even for buses.
That the assembly line for motor vehicles was born at the Ford works in 1913.
That it quickly Cut the time required for assembling a single chassis from 14 hours to 93 minutes.
That • neither cyclists nor motorists should grumble at the new rear-light law—but they will.
That in making some wire ropes every strand passes through a special permanent ubricant.
Of Tasmanian plans for run-, aing many inter-town bus services after the war, using oilengined vehicles.