Planning for Export
23rd February 1945
Page 15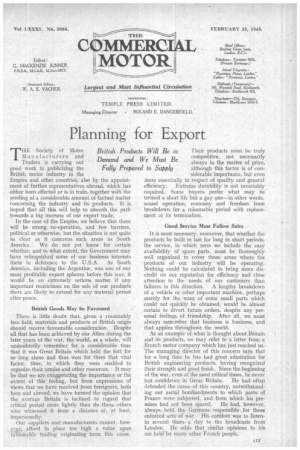 Page 16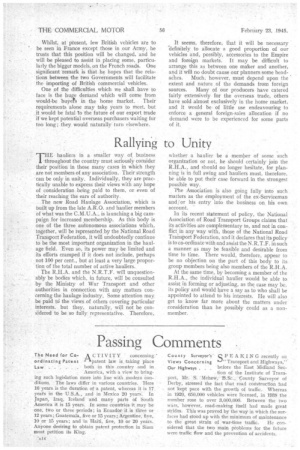 Page 15, 23rd February 1945 —
Planning for Export
Close
THE Society of Motor Manufacturers and Traders iS carrying out good work in publicizing the British motor industry in the Empire and other countries, also by the appointment of further representatives abroad, which has either been effected or is in train, together with the sending of a considerable amount of factual matter concerning the industry and its products. It is hoped that all this will help to smooth the path towards a big increase of our export trade.
In the case of the Empire, we believe that there will be strong co-operation, and few barriers, political or otherwise, but the situation is not qMte so clear as it concerns such areas as South America. ' We do not yet know for certain whether, and to what extent, the Government may have relinquished some of our business interests there in deference to the U.S:A. As South America, including the Argentine, was one of our most profitable export spheres before this war, it would be an extremely serious matter if any important restrictions on the sale of our products there are likely to extend for any material period after peace.
British Goods May be Favoured There is little doubt that, given a reasonably free field, materials and products of British origin should receive favourable consideration. Despite all that has been achieved by ciiir Allies during the later years of the war, the world, as a whole, will undoubtedly remember for a considerable time that it was Great Britain which held the fort for so long alone and thus won for them that vita! factor, time in which they were enabled to organize their armies and other resources. It may be that we are exaggerating the iinportarice or the extent of this feeling,, but from expressions of views that we have received from foreigners, both here and abroad, we have formed the opinion that the average Britain is inclined to regard that critical period more lightly than do those others who witnessed it from a distance or,. at least, impersonally.
Our suppliers and manufacturers cannot, howcver, afford to place too high a value upon fiVoUrable trading originating from this cause. Their products must be truly competitive, not necessarily always in the matter of price, although this factor is of considerable importance, but even more essentially in respect of quality and general efficiency. Extreme durability is not invariably required. Some buyers prefer what may be termed a short life but a gay one—in other words, sound operation, economy and freedom from breakdown for a reasonable period with replacement at its termination.
• Good Service Must Follow Sales It is most necessary, moreover, that whether the products be built to last for long or short periods, the service, in which term we include the easy availability of spare parts, must be thoroughly well organized to cover those areas where the 'products of our industry will be operating. Nothing could be calculated to bring more discredit on our reputation for efficiency and close attention to the needs of our customers than failures in this direction. A lengthy breakdown of a vehicle or other important machine, perhaps merely for the want of some small parts which could not quickly be obtained, would be almost . certain to divert future orders, despite any personal feelings of friendship. After all, we must always remember that business is business, and that applies throughout the world.
' As an example of what is thought about Britain and its products, we may refer to a letter from a French motor company which has just reached us. The managing director of this concern says that for a long time he has had great admiration for British engineering products, having recognized their strength and good finish.. Since the.beginning of the war, even at the most critical times, he never lost confidence in Great Britain. He had often defended the cause of this country, notwithstanding our aerial bombardments to which partsof France were subjected, and from which his premises had not been spared. He had, however, always held the Germans responsible for these enforced acts of war, His comfort was to listenin several times' a day to the broadcasts from London. He adds that similar opinions to his are heldby many other French people. Whilst, at present, few British vehicles are to be seen in France except those in our Army, he trusts that this position will be changed, and he will be pleased to assist in placing some, particularly the bigger models, on the French roads. One significant remark is that he hopes that the relations between the two Governments will facilitate the importing of British commercial vehicles.
One of the difficulties which we shall have to face is the huge demand which will come from would-be buyers in the home Market. Their requirements alone may take years to meet, but it would be fatal to the future of our export trade if we kept potential overseas purchasers waiting for too long; they would naturally turn elsewhere. It seems, therefore, that it will be necessary *definitely to allocate a good proportion of our vehicles and, possibly, accessories to the Empire and foreign markets. It may be difficult to arrange this as between one maker and another, and it will no doubt cause our planners some headaches. Much, however, must depend upon the extent and nature of the demands from foreign sources. Many of our producers have catered fairly extensively for the overseas trade, others have sold almost exclusively in the home market, and it would be of little use endeavouring to enforce a general foreign-sales allocation if no demand were to be experienced for some parts of it.