TRANSPORTING 400 DNS DAILY BY ROAD U NDOUBTEDLY the concern of
23rd February 1932
Page 50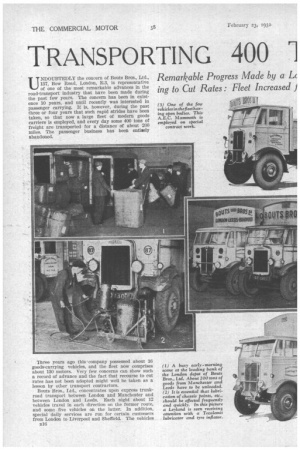 Page 51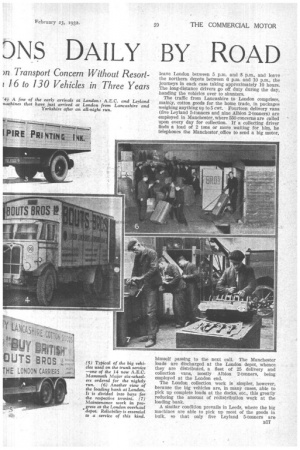 Page 52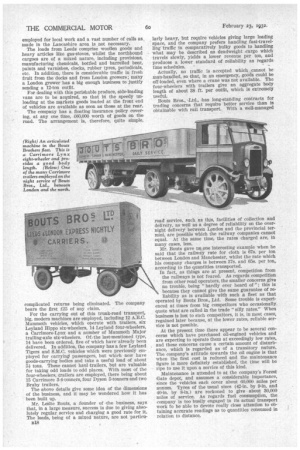 Page 50, 23rd February 1932 —
TRANSPORTING 400 DNS DAILY BY ROAD U NDOUBTEDLY the concern of
Close
Bouts Bros., Ltd., 137, Bow Road, London, E.3, is representative of one of the most remarkable advances in the road-transport industry that have been made during the past few years. The concern has been in existence 10 years, and until recently was interested in passenger carrying. It is, however, during the past three or four years that such rapid strides have been taken, so that now a large fleet of modern goods carriers is employed, and every day some 400 tons of freight are transported for a distance of about 200 miles. The passenger business has been enthlely abandoned.
Three years ago this. company possessed about 16 goods-carrying vehicles, and the fleet now comprises about 130 motors. Very few concerns can show such a record of advance and the fact that recourse to cut rates has not been adopted might well be taken as a lesson by other transport contractors.
Bouts Bros., Ltd., concentrates upon express trunkroad transport between London and Manchester and between London and Leeds. Each night about 12 vehicles travel in each direction on the former route, and some five vehicles on the latter. In addition, special daily services are run for certain customers from London to Liverpool and Sheffield. The vehicles B16 leave London between 5 p.m. and 8 p.m, and leave the northern depots between 6 p.m. and 10 pm., the journeys in each case taking approximately 10 hours. • The -long-distance drivers go off duty during the day, handing the vehicles over to shunters. The traffic from Lancashire to London comprises, • main;y, cotton goods for the home trade, in packages ;weighing anything up to 5 cwt. Fourteen delivery vans (five Leyland 5-tonners and nine Albion 2-tottners) are employed In Manchester, where 550 concerns are called upon every day for collection. If a collecting driver finds a load of 2 tons or more waiting for him, he telephones the Manchester ,office to send a big motor, liiinseLt passing to the next call. The Manchester loads are discharged at the London depot, whence they are distributed, a fleet of 25 delivery and collection vans, mostly Albion 2-tonners, being employed at the London end.
The London collection work is simpler, however, because the big vehicles are, in many cases, able to pick up complete loads at the docks, etc., this greatly reducing the amount of redistribution work at the loading bank. _ A similar condition prevails in Leeds, where the big machines are able to pick up most of the goods in bulk, so that only five Leyland 5-tonners are u1.7 employed for local work and a vast number of calls as made in the Lancashire area is not necessary.
The loads from Leeds comprise woollen goods and heavy articles like gas-stoves, whilst the northbound cargoes are of a mixed nature, including provisions, manufacturing chemicals, bottled and barrelled beer, paints and varnishes, clocks, rubber tyres, periodicals, etc. In addition, there is considerable traffic in fresh fruit from the docks and from London growers; many a London grower has a big enough business to justify sending a 12-ton outfit.
For dealing with this perishable produce, side-loading vans are to be acquired, so that in the speedy unloading at the markets goods loaded at the front end of vehicles are available as soon as those at the rear.
The company has a floating insurance policy covering, at any one time, £60,000 worth of goods on the road. The arrangement is, therefore, quite simple, complicated returns being eliminated. The company bears the first 125 of any claim.
For the carrying out a this trunk-road transport, big, modern machines are employed, including 12 A.E.C. Mammoth vehicles, which operate with trailers, six Leyland Hippo six-wheelers, 14 Leyland four-wheelers, a Carrimore-Lynx and a number of Mammoth Major trailing-axle six-wheelers. Of•the last-mentioned type, 14 have been ordered, five of which have already been delivered. In addition, the company has a few Leyland Tigers and S.M.C. vehicles which were previously employed for carrying passengers, but which now have goods-carrying bodies and take a useful load of about 5? tons. These cannot haul trailers, but are valuable for taking odd loads to odd places. With most of the four-wheelers, trailers are employed, there being about
15 Carrimore 3-4-tonners, four Dyson 5-tonners and two Braby trailers.
The above details give some idea of the dimensions of the business, and it may be wondered how it has been built up.
Mr. Leslie Bouts, a founder of -the business, says that, in a large measure, success is due to giving absolutely regular service and charging a good rate for it. The loads, being of a mixed nature, are not 'partien n18 larly heavy, but require vehicles giving large loading space, and the company prefers handling fast-travelling traffic in comparatively bulky goods to handling what may be described as deadweight .cargo which travels slowly, yields a lower revenue per ton, and produces a lower standard of reliability as regards time schedules.
Actually, no traffic is accepted which cannot be man-handled, so that, in an emergency, goods could be off-loaded, even where a crane was not available. The four-wheelers with trailers give an aggregate body length of about 38 ft. per outfit, which is extremely useful.
Bouts Bros., Ltd. has long-standing contracts for trading concerns that require better service than is obtainable with rail transport.. With a well-managed road service, such as this, facilities of collection and delivery, as well as a degree of reliability on the overnight delivery between London and the provincial termini, are possible which the railway companies cannot equal. At the same time, the rates charged are, in many cases, less.
Mr. Bouts gave us one interesting example when he said that the railway rate for cloth is 67s per ton between London and Manchester, whilst the rate which his company charges is between 37s. and 65s. per ton,, according to the quantities transported.
In fact, as things are at present, competition from the railways is not feared. As regards competition from other road operators, the smaller concerns give no trouble, being "hardly ever heard of "; this is because they cannot give the same guarantee of re liability as is available with such a fleet as that operated by Bouts Bros., Ltd. Some trouble is experienced at times from big competitors who occasionally quote what are called in the trade "silly rates." When business is lost to such competitors, it is, in most cases, regained later because, at the lower rates, reliable service is not possible.
At the present time there appear to be several concerns which have purchased oil-engined vehicles and are expecting to operate them at exceedingly low rates, and these concerns cause a certain amount of disturbance, which is regarded as of a transitory nature. The company's attitude towards the oil engine is that when the first cost is reduced and the maintenance figure is more definitely established, the time will be ripe to use it upon a service of this kind.
Maintenance is attended to at the company's Forest Gate depot, and assumes a considerable importance, since the vehicles each cover about 60,000 miles per annum. Tyres of the usual sizes (42-in. by 9-in. and 40-in. by 8-in.) are reckoned to give about 30,000 miles of service. As regards fuel consumption, the company is too busily engaged in its actual transport work to be able to devote really close attention to obtaining accurate readings as to quantities consumed in relation to distance,