LIMITING SIZE OF FUEL TANKERS.
23rd February 1926
Page 19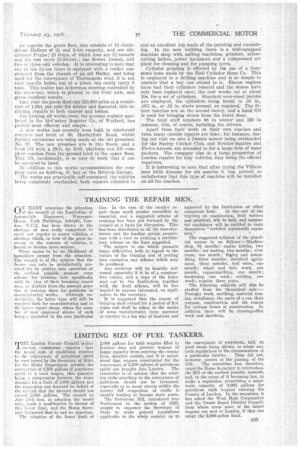 Page 19, 23rd February 1926 —
LIMITING SIZE OF FUEL TANKERS.
Close
HE London County Connell -public
control. :seetnhaittee. . reports that the neelel code of conditions relating . to the eoeveyanca of ,petroleum spirit by road isnued by the Secretary of State for the Itothe Department permits' the conveyance of 2,500 gallons of petroleum spirit iii a tank wagon, this quantity being a compromise :lietWeen the 'trade demand for a limit of 3,000 gallons and the suggestion Put forward on behalf of. the collucil. that the amount should not exceed 2,000 gallons. The council on July 2Sth last, in adopting the model code, made a modification in favour of this lo xer limit, and the Home Secretary intimated that he saw no objection;
The adoption of the lower' lirait of 2,000 gallons for tank wagons filled in London' does not prevent, wagons of larger capacity from entering the county from districts outside, and it is understood that wagons constructed for the conveyance of 2,500 gallons of petroleum spirit are brought into London. The committee is of opinion that the existing risks attaching to the conveyance of petroleum should not be increased, especially as in many streets within the county thg congestion of traffic is rapidly tending to become more acute.
The Petroleum Bill, introduced into Parliament in the session of 1925, sought to empower the Secretary of State to make general regulations applicable to the whole country as to
the conveyance of petroleum, and, on good cause being shown, to adapt any such regulations to the circumstances of a particular locality. Time did not, however, permit of the passing of the
Bill. The committee has, therefore, urged the Home Secretary to reintroduce the Bill at the earliest possible moment, and, in the event of it becoming law, to make a regulation prescribing a maximum canacity, of 2,000. gallons for petroleum tank wagons entering the County of London, in the meantime, it has asked the West Ham Corporation and the Orsett Rural District Council, from whose areas • some of the larger wagons are sent to London, if they can adopt the 2,000-gallon limit.