New Gas Producer Shows Up Well on Demonstration
23rd December 1939
Page 32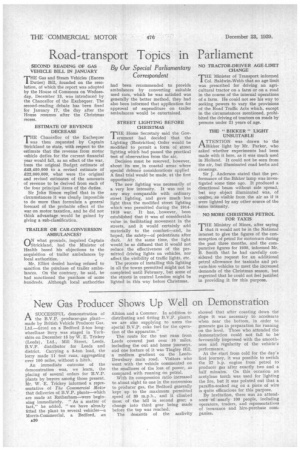 Page 32, 23rd December 1939 —
New Gas Producer Shows Up Well on Demonstration
Close
ASUCCESSFUL demonstration of the B.V.P. producer-gas plant— made by British Vehicle Producer Gas, Ltd.—fitted on a Bedford 2-ton longwheelbase lorry was staged in Yorkshire on December 15 by W. E. Trickey (Leeds), Ltd., Mill Street, Leeds, B.V.P. distributor for Leeds and district. Carrying a 3-ton load, the lorry made 11 test runs, aggregating over 100 miles, without a hitch.
An immediate outcome of the demonstration was, we learn, the placing of several orders for B.V.P. plants by buyers among those present. Mr. W. E. Trickey informed a representative of The Commercial Motor that deliveries of B.V.P. plants—which are made at Rotherham—were beginning immediately. " As a matter of fact," he added, " we have already fitted the plant to several vehicles—a Morris-Commercial, a Bedford, an
£30 Albion and a Commer. In addition to distributing and fitting B.V.P. plants, we are also supplying to users the special B.V.P. coke fuel for the operation of the apparatus."
The route for the test runs from Leeds covered just over 10 miles, including the out and home journeys, and one feature of it was Tingley Hill, a medium gradient on the LeedsDewsbury main road. Visitors who went with the vehicle commented on the smallness of the loss of power, as compared with running on petrol.
With its compression ratio increased to about eight to one in the conversion to producer gas, the Bedford generally kept up to the maximum permitted speed of 30 m.p.h., and it climbed most of the hill in second gear; a change into third gear being made before the top was reached. The descents of the acclivity showed that after coasting down the slope it was necessary to accelerate when near the bottom, in order to generate gas in preparation for running on the level. Those who attended the demonstration could not fail to be favourably impressed with the smoothness and regularity of the vehicle's performance.
At the start from cold for the day's first journey, it was possible to switch the 27 h.p. engine from petrol to producer gas after exactly two and a half minutes. On this occasion an acetylene torch was used for lighting the fire, but it was pointed out that a paraffin-soaked rag on a piece of wire is quite efficacious for this purpose.
By invitation, there was an attendance of nearly • 100 people, including operators, traders, and representatives of insurance and hire-purchase companies.