Liverpool Operators Approve A.R.O. Pooling Scheme L IVERPOOL operators had the
23rd December 1939
Page 31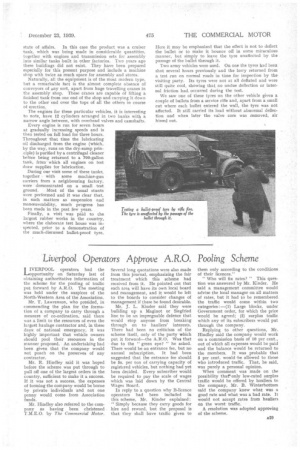 Page 31, 23rd December 1939 —
Liverpool Operators Approve A.R.O. Pooling Scheme L IVERPOOL operators had the
Close
opportunity on Saturday last of obtaining authoritative information of the scheme for the pooling of traffic put forward by A.R.O. The meeting was held under the auspices of the North-Western Area of the Association.
Mr. T. Lawrenson, who presided, in commending the plan for the formation of a company to carry through a measure of co-ordination, said there was a limit to the resources of even the largest haulage contractor and, in these daysof national emergency, it Was highly important that vehicle owners should pool their resources in the manner proposed. An undertaking had been given that the company would not poach on the preserves of any contractor.
Mr. R. Hindley said it was hoped before the scheme was put through to pull off one of the largest orders in the country, sufficient to make it a success. If it was not a success, the expenses of forming the Company would be borne • by private individuals and not one penny would come from Association funds.
Mr. Hindley also referred to the company as having been christened T.M.E,O. by The Commercial Motor, Several long quotations were also made from this journal, emphasizing the fair treatment which this scheme had received from it. He pointed out that each area will have its own local board and management, and it would be left to the boards to consider changes of management if these be found desirable.
Mr. J. L. Kinder said they were building up a Maginot or Siegfried line to be an impregnable defence that would stop anyone from breaking through on to hauliers' interests. There had been no criticism of the scheme itself, only of the party which put it forward—the A.R.O. Was that due to the " green eye? " he asked. There would be an entrance fee, but no annual subscription. It had been suggested that the entrance fee should be 5s, per ton of carrying capacity of registered vehicles, but nothing had yet been decided. Every subscriber would be required to pay the scale of wages which was laid down by the Central Wages Board.
In reply to a question why B-licence operators had been included in this scheme, Mr. Kinder explained: " Simply because they carry goods for hire and reward, but the proposal is that they shall have traffic given to them only according to the conditions of their licences."
"Who will fix rates? " This question was answered by Mr. Kinder. He said a management committee would advise the local manager on all matters of rates, but it had to be remembered the traffic would come within two categories:—(l) Large blocks, under Government order, for which the price would be agreed; (2) surplus traffic which any of its subscribers would put through the company.
Replying to other questions, Mr. Hindley said the company would work on a commission basis of 10 per cent., out of which all expenses would be paid and the balance would be returned to the members. It was probable that 5 per cent, would -be allowed to those who introduced traffic. That, he said, was purely a personal opinion.
When comment was made on the possibility that*only low-rated surplus traffic would be offered by hauliers to the company, Mr. B. Winterbottom said the company knew what was a good rate and what was a bad rate. It would not accept rates from hauliers on the worst traffic: A resolution was adopted approving of the scheme.