TRANSPORT PROBLEW
23rd December 1939
Page 26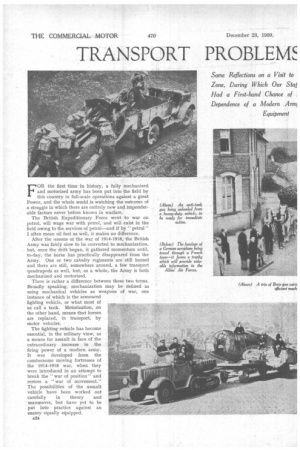 Page 27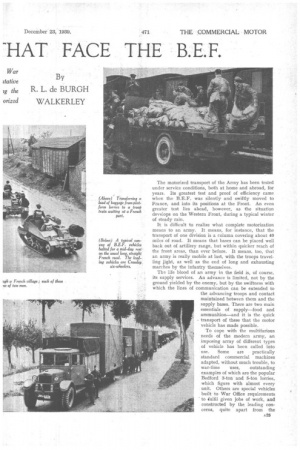 Page 28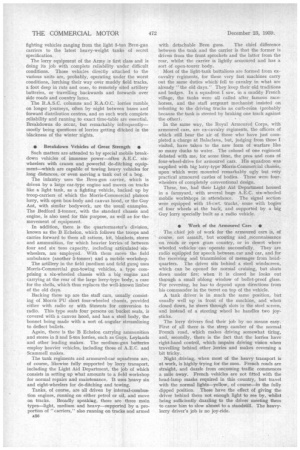 Page 26, 23rd December 1939 —
TRANSPORT PROBLEW
Close
"HAT FACE THE B•-E•E•
By R. L. de BURGH WALKERLEY
FOR the first time in history, a fully mechanized and motorized army has been put into the field by this country in full-scale operations against a great Power, and the whole world is watching the outcome of a struggle in which there are entirely new and imponderable factors never before known in warfare.
The British Expeditionary Force went to war on petrol, will wage war with petrol, and will exist in the field owing to the services of petrol—and if by " petrol" I often mean oil fuel as well, it makes no difference.
After the iessons of the war of 1914-1918, the British Army was fairly slow to be converted to mechanization, but, once the drift began, it gathered momentum until, to-day, the horse has practically disappeared from the Army. One or two cavalry regiments are still horsed and there are still, somewhere around, a few transport quadrupeds as well, but, as a whole, the Army is both mechanized and motorized.
There is rather a difference between these two terms. Broadly speaking, mechanization may be defined as using mechanical vehicles as weapons of war, one instance of which is the armoured fighting vehicle, or what most of us call a tank. Motorization, on the other hand, means that horses are replaced, in transport, by motor vehicles.
The fighting vehicle has become essential, in the military view, as a means for assault in face of the extraordinary increase in the firing power of a modern army. It was developed from the cumbersome moving fortresses of the 1914-1918 war, when they were introduced in an attempt to break the "war of position" and restore a "war of movement." The possibilities of the assault vehicle have been worked out carefully in theory and • manceuvre, but have yet to be put into practice against an enemy equally equipped.
A24 The motorized transport of the Army has been tested under service conditions, both at home and abroad, for years. Its greatest test and proof of efficiency came when the B.E.F. was silently and swiftly moved to France, and into its positions at the Front. An even greater test lies ahead, however, as the situation develops on the Western Front, during a typical winter of steady rain.
It, is difficult to realize what complete motorization means to an army. It means, for instance, that the transport of one division is a column covering about 40 miles of road. It means that bases can be placed well back out of artillery range, but within quicker reach of the front areas, than ever before. It means, too, that an army is really mobile at last, with the troops travelling Sight, as well as the end of long and exhausting marches by the infantry themselves.
The life blood of an army in the field is, of course, its supply services. An advance is limited, not by the ground yielded by the enemy, but by the swiftness with which the lines of communication can be extended to the advancing troops and contact maintained between them and the supply bases. There are two main essentials of supply—food and ammunition—and it is the quick transport of these that the motor vehicle has made possible.
To cope with the multifarious needs of the modern army, an imposing array of different types of vehicle has been called into use. Some are practically standard commercial machines adapted, without much trouble, to war-time uses, outstanding examples of which are the popular Bedford 3-ton" and 5-ion lorries, which figure with almost every unit. Others are special vehicles built to War Office requirements to tuffil given jobs of work, and constructed by the leading concerns, quite apart from the fighting vehicles ranging from the light 5-ton Bren-gun carriers to the latest heavy-weight tanks of secret specification.
The lorry equipment of the Army is first class and is doing its job with complete reliability under difficult conditions. Those vehicles directly attached to the various units are, probably, operating under the worst conditions, lurching their way over muddy field -tracks, a foot deep in ruts and ooze, to remotely sited artillery batteries, or travelling backwards and forwards over side roads and country lanes.
The R.A.S.C. columns and R.A.O.C. lorries rumble. on longer journeys, often by night between bases and forward distribution centres, and on such work complete reliability and running to exact time-table are essential. Breakdowns do occur, but remarkably infrequently— mostly being questions of lorries getting ditched in the blackness of the winter nights.
• Breakdown Vehicles of Great Strength • Such matters are attended to by special mobile breakdown vehicles of immense power—often A.E.C. sixwheelers with cranes and powerful de-ditching equipment—which are capable of towing heavy vehicles for long distances, or even moving a tank out of a bog.
The infantry uses the Bren-gun carrier, which is driven by a large car-type engine and moves on tracks like a light tank, as a fighting vehicle, backed up by troop.carriers of which the Morris-Commercial platoon lorry, with open box-body and canvas hood, or the Guy Ant, with similar bodywork, are the usual examples. The Bedford 3-tonner, with the standard chassis and engine, is also used for this purpose, as well as for the movement of equipment.
In addition, there is the quartermaster's division, known as the B Echelon, which follows the troops and carries forward to them all rations, kit, blankets, stores and ammunition, for which heavier lorries of between four and six tons capacity, including articulated sixwheelers, are employed. With them move the field ambulance (another 5-tonner) and .a mobile workshop.
The artillery in the field (medium and field guns) uses Morris-Commercial gun-towing vehicles, a type comprising a six-wheeled chassis with a big engine and carrying at the rear of the large lorry-type body, a case for the shells, which thus replaces the well-known limber of the old days.
Backing these up are the staff cars, usually consisting of Morris PU short four-wheeled chassis, provided either with radio or with fitments for conversion to radio. This type seats four persons on bucket seats, is covered with a canvas hood, and has a steel body, the bonnet being made with a sort of. angular streamlining to deflect bullets.
Again, there is the B Echelon carrying ammunition and stores in 3 and 5-ton lorries, such as Guys. Leylands and other leading makes. The medium-gun batteries employ heavier vehicles, including those of A.E.C. and Scammell makes.
The tank regiments and armoured-car squadrons are, of course, likewise fully supported by lorry transport, including the Light Aid Department, the job of which consists in setting up what amounts to a field workshop for normal repairs and maintenance. It uses heavy six and eight-wheelers for de-ditching and towing.
Tanks, of course, are all driven by internal-combustion engines, running on either petrol or oil, and move on tracks. Broadly speaking, there are three main types—light, medium and heavy—supported by a proportion of "carriers," also running on tracks and armed *26 with detachable Bren guns. The chief difference between the tank and the carrier is that the former is driven from the front sprockets and the latter from the rear, whilst the carrier is lightly armoured and has a sort of open-tourer body.
Most of the light-tank battalions are formed from excavalry regiments, for these very fast machines carry out the same duties which fell to cavalry in what are already "the old days." They keep their old traditions and badges. In a squadron I saw, in a muddy French village, the tanks were all called after famous racehorses, and the staff sergeant mechanist insisted on referring to the driving tracks as curb-reins (probably because the tank is steered by braking one track against the other).
In the same way, the Royal Armoured Corps, with armoured cars, are ex-cavalry regiments, the officers of which still bear the air of those who have just completed a charge at 13alaclava, but, judging from those I visited, have taken to the new form of warfare like so many ducks to water. The colonel of one regiment debated with me, for some time, the pros and cons of four-wheel-drive for amioured cars. His squadron was supplied with big lorry-type Morris-Commercial chassis, upon which were mounted remarkably ugly but very practical armoured castles of bodies. These were fourwheelers of completely conventional design.
These, too, had their Light Aid Department housed in a farmyard,with several huge A.E.C. six-wheeled mobile workshops in attendance. The signal section were equipped with 15-cwt. trucks, some with bogies of four wheels at the back, and supported by a big Guy lorry specially built as a radio vehicle.
.• Work of the Armoured Cars •
The chief job of work for the armoured cars is, of course, not assault, but scouting and reconnaissance on roads or open grass country, or in desert where wheeled vehicles can operate successfully. They are radio equipped for speech between car and car, and for the receiving and transmission of messages from headquarters. The driver sits behind a steel windscreen, which can be opened for normal cruising, but shuts down under fire; when it is closed he looks out thrpugh a small oblong window of bullet-proof glass. For reversing, he has to depend upon directions from his commander in the turret on top of the vehicle.
A tank driver is in much the same position, but usually well up in front of the machine, and when closed down, he steers through slots in the steel screen, and instead of a steering wheel he handles two joysticks.
The lorry -drivers find their job by no means easy. First of all there is the steep camber of the normal French road, which makes driving somewhat tiring, and, secondly, there is the fact that the lorries have right-hand control, which impairs driving vision when travelling behind other lorries and makes reversing a bit tricky.
Night .driving, when most of the heavy transport is at work, is highly trying for the men. French roads are straight,. and dazzle from oncoming traffic commences a mile away. French vehicles are not fitted with the head-lamp masks required in this country, but travel with the normal lights—yellow, of course—in the fully dipped position. These have the effect of giving the driver behind them not enough light to see by, whilst being sufficiently dazzling to the driver meeting them to cause him to slow almost to a standstill. The heavylorry driver's job is no joy-ride.