The Cinch Bolt for Certain Anchorage
23rd December 1939
Page 23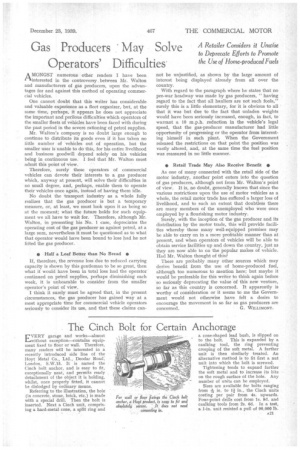 Page 23, 23rd December 1939 —
The Cinch Bolt for Certain Anchorage
Close
EVERY garage and works—almost without exception—contains equipment fixed to floor or wall. Therefore, many readers will be interested in a• recently introduced side line of the Hoyt Metal Co., Ltd., Deodar Road, London, S.W.15. It is named the Cinch bolt anchor, and is easy to fit, exceptionally neat, and permits ready detachment of the object it is holding, whilst, once properly fitted, it cannot be dislodged by ordinary means.
Referring to the illustration, the hole (in concrete, stone, brick, etc.) is made with a special drill. Then the bolt is inserted. Next a Cinch unit, comprising a hard-metal cone, a split ring and a cone-shaped lead bush, is slipped on to the bolt. This is expanded by a caulking tool, the ring preventing creeping of the soft metal. A further unit is then similarly treated. An alternative method is to fit first a nut unit into which the bolt is screwed.
Tightening tends to expand further the soft metal and to increase its bite on the rough surface of the hole. Any number of units can he employed.
Sizes are available for bolts ranging from in. to II in., the Cinch units costing per pair from 4s. upwards. Four-point drills cost from 1s. 9d. and caulking tools from 2s. ficl. in a test, a 1-in, unit resisted a pull of 90,000 lb.